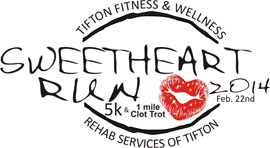 The 17th Annual Sweetheart Run is scheduled for Saturday, February 22, 2014 at Rehabilitation Services of Tifton / Tifton Fitness & Wellness Center. The event will consist of a 5K Sweetheart Run at 9 a.m. and a 1 Mile Clot Trot at 9:45 a.m.
"We are so glad to be able to donate our proceeds from the Sweetheart Run and Clot Trot to Hemophilia of Georgia again this year," said race volunteer Cindy Spurlin. "My family has directly benefited from the assistance that their organization provides for families affected by hemophilia."
Hemophilia of Georgia is a nonprofit organization dedicated to providing services and support for Georgians who have hemophilia and other inherited bleeding disorders. HoG exists so that people in Georgia affected by bleeding disorders live as normally and productively as possible.
Trophies will be awarded to the overall male and female winners of the 5K and the 1-Mile, the male and female masters of the 5K, and the top three finishers in each group for ages 19 & under for both events. Awards will also go to the top three finishers in each age group for ages 20 & over for both events.
All pre-registered runners will be guaranteed a long-sleeve event tshirt or hoodie (additional cost).
Participants can pre-register at www.rehaboftifton.com. Early registration ends Feb. 7th, but participants can register at the event on Feb. 22nd. For questions, call 229-386-5200.