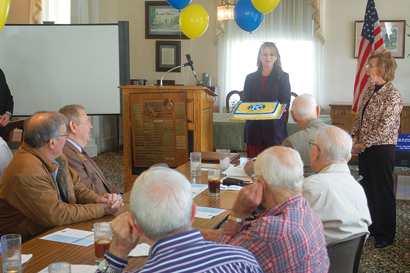 The Sylvester Kiwanis Club joined last Wednesday at noon to celebrate the local chapter's 90th birthday. Following lunch, Worth County Schools Superintendent Babs Thomas began the celebration by presenting a beautiful cake decorated with the Kiwanis International seal as everyone in attendance sang Happy Birthday.
While the cake was being served, Mr. Ridley Monk presented a plaque to Jimmy Rouse for his service as chapter president over the last year. Then, Sylvester Mayor Bill Yearta read a proclamation by the city recognizing March 23, 2013 as the 90th anniversary of the founding of the local group.
Following the proclamation, Mike Davis introduced Kiwanis' Lt. Governor Andrew Christianson who congratulated the local Kiwanians by mentioning that Kiwanis International will celebrate their 100th anniversary in two years. Christianson stated the Sylvester club stands among the early founders of the organization.
Read the full story in the March 27th edition of The Local.