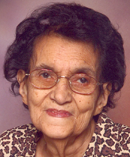 Alfreda Mary Haukaas Martinez, 77, of Ty Ty died Wednesday, September 18, 2013, at Tift Regional Medical Center. Funeral services were held at 3 p.m. on Saturday, September 21, 2013, in the Chapel of Bowen-Donaldson Home for Funerals. Elder Thomas Deal officiated with burial following in Oak Ridge Cemetery.
Chuck Webb, Scott Webb, Brett Robinson, Keith Fechner, Travis Webb and Michael Webb served as pallbearers.
Her great-grandchildren served as honorary pallbearers.
The family received friends on Friday, September 20, 2013, from 6 until 8 p.m. at Bowen-Donaldson Home for Funerals. The family met at 5 Ballater Lane in the McInnis Mills subdivision in Kelltown.
Mrs. Martinez was born on September 10, 1936 in Rosebud, South Dakota and was the daughter of Everette Haukaas and Mable Whiting Haukaas, both deceased. She was also preceded in death by one daughter, Rebecca Everingim; two brothers, Wayne Haukaas and Billy Haukaas; and one sister, Beverly Wright.  She was a retired nursing assistant.
Mrs. Martinez is survived by two daughters and sons-in-law, Sandra and Loren Webb of Ty Ty and Maria and Bruce Cox of Sidney, Nebraska; six grandchildren and their spouses, Chuck and Aja Webb of Sylvester, Jessica and Keith Fechner of Tifton, Scott Webb of Sylvester, Brooke Martz of Conway, Arkansas, Brett Robinson of Russellville, Arkansas and Brittney Slater of Russellville, Arkansas; and six great-grandchildren, Annie, Trenton, Tanner, Johnathan, Destiny and McKenzie.
Condolences may be sent to the family at the online guest registry at www.bowen-donaldson.com. Services for the Martinez family were under the care and direction of Bowen-Donaldson Home for Funerals.