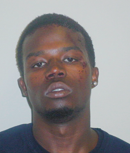 Last night at approximately 8:30 p.m., a black male, wearing all black, entered the Hot Wok restaurant at 105 East Franklin Street in Sylvester. Armed with a small framed handgun, the man whose face was covered, tied up the two store employees and robbed the store. He was attempting to flee the scene when Sgt. Nicole White, Cpl. Jonathan Luna, Ptl. Adam Celinski, and Ptl. Sarah McCrary surrounded the assailant in a small wooded area where he was apprehended.  The subject was identified as Wendell Carl Thomas , aka. "Little Dooly".  The money and the firearm were recovered.
Thomas was transported to the Sylvester Police Department where he was booked with Armed Robbery, two counts of Aggravated Assault, two counts of False Imprisonment, Possession of a Firearm by a convicted Felon, and Possession of a Firearm during the commission of a crime. Thomas is currently in the Worth County Jail.
Thomas was also a person of interest for a home invasion armed robbery that occurred on Pamela Drive in Sylvester on August 22, 2013 and another home invasion armed robbery that occurred on East Street in Sylvester on September 26, 2013.  Those investigations are still on-going.
Thomas committed an Armed Robbery of the Dairy Queen in Sylvester on July 30, 2006 and was incarcerated in the Georgia prison system until July 8, 2013.
Sylvester Police Officers were commended for a good job in the apprehension of Thomas. SPD also offered thanks to the Worth County Sheriff's Office for their response and assistance.