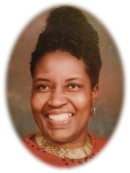 Carneita Mosley Willis, age 68, of Toledo, Ohio passed away April 25, 2014, at Hospice of Northwest Ohio Perrysburg. Carneita was born August 10, 1945, to Eunice S. Manuel and Joseph Jackson of  Sylvester, GA. She retired from Libbey Glass Co. after 26 years of service. Carneita married Henry Willis in 1965. From this union, they were blessed with four loving children.
A life well lived is worth remembering. Her accomplishments: She received a Certificate of Commission from The Board of Directors of Morris Cerullo World Evangelism and was nominated as a Master Sergeant February 23, 2001. She received an honor and appreciation for providing 571 meals to hungry boys and girls in the year of 2003. She received Certificate of Completion for the Prophetic Ministerial Training Course PM001 on June 6, 2005. She received a Certificate of Ordination for Elder by the authority of the Christian Love Fellowship Ministry on November 20, 2009.
Carneita is survived by her loving husband, Henry Willis; daughter, Pamsie Alhadji and two sons, Deric (Dawn) and Aric Willis, all of Toledo, OH. Grandchildren Robert Taylor Jr, Tyson Taylor, Jordan Taylor, Ousman Alahdji and two great grandchildren; Amiah Cheries Taylor & Robert Lionel Taylor III.  She leaves behind seven sisters; Ida "Peggy" (Dwelley) Cauley of Miami, FL, Yancey Manuel of Jacksonville, FL, Sharon (Jose) Roquemore of Albany, GA, Cherry Cheevers, Latange Kirk, Shirley (Eddie) Heard, Valentina (Jessie) Peavy, all of Sylvester, GA. Eight brothers; John "Pepper" Manuel, Jr, Milford Brown, Sandus Manuel, of Sylvester, GA, Reginald "Geno" (Sandra) Manuel of Miami, FL, Milton Brown of Warner Robins, GA, and Ellis Brown of Virginia. Close Aunt; Thelma Washington, close cousins; Helen Andrews and Iris (Sam) Cuffie. Host of nieces, nephews, cousins, other relatives and friends.
The Family of Carneita LaGrace Willis thank you most sincerely for you kind expression of sympathy in their recent bereavement.