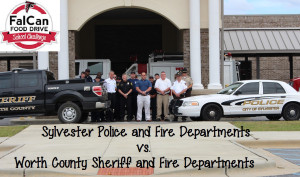 Worth County Elementary School needs your help! They are participating in the Atlanta Falcons "FalCan" Food Drive again this year.  Last year, WCES took first place in the contest by donating over 16,000 pounds of food to the Southwest Georgia Food Bank in Albany. Over fifty students and staff members traveled to the Georgia Dome and participated with the Falcon Flag Crew last December. WCES hopes to return to the Georgia Dome this November to do the same.
Win or lose, WCES Principal Steven Rouse says it is more about the message that it sends to our students – helping others in need is the real prize!
As a way to raise awareness for this cause, Rouse issued a challenge to City of Sylvester Police and Fire Departments who in turned challenged the Worth County Sheriff's Office and Fire Department to see who could raise the most canned goods. The winner will receive the Golden Can Award from WCES staff and students, and the loser will win a pie in the face!
Any type of canned good or nonperishable food items can be donated at any of the following locations: Sylvester Police Department, Sylvester Fire Department, Worth County Sheriff's Department, or the Worth County Fire and Rescue Department. Donations are also being accepted at Worth County Elementary School. The contest runs until October 31.
Additionally, SPD released the following information last Friday. The City of Sylvester Police Department and Fire Department have teamed together with the elementary school in this initiative. In an effort to support our elementary school in the collection of canned food, collection boxes have been placed in the lobbies of the police and fire departments. An additional box has been placed inside the City of Sylvester City Hall. A collection box will also be placed at the main entrance of the Worth County Stadium (Milt Miller Field) on Friday, October 24, 2014, for the Worth County football game against Americus-Sumter.