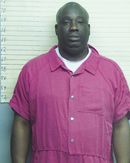 On Tuesday, February 11, 2014 Tift Judicial Circuit District Attorney Paul Bowden requested GBI Region 15 Sylvester to investigate allegations of extortion involving City of Sylvester Fire Chief Chris Duncan. The investigation resulted in Duncan being arrested for one felony count of Theft by Extortion. He was released the following day on a $5,000 bond.
According to officials, Duncan unlawfully obtained $800.00 by threatening to cause a public official to take an action against a fellow Sylvester firefighter.
Duncan has been placed on leave of absence and the City of Sylvester is cooperating with the ongoing GBI investigation which could result  in additional charges being filed.
Duncan was named chief in November, 2012 after serving as the department's assistant chief for nearly a decade and as interim chief for several  months. He also coached basketball and baseball for about 14 years and worked as a substitute teacher for 13 years.