ATLANTA – The Georgia Department of Labor (GDOL) announced today that the state's seasonally adjusted unemployment rate in October was 5.7 percent, down one-tenth of a percentage point from 5.8 percent in September. The rate was 6.8 percent in October 2014.
"A strong over-the-month increase of 29,000 jobs helped push our unemployment rate to its lowest level in seven-and-a-half years," said State Labor Commissioner Mark Butler. "This year's September-to-October job growth is much stronger than the 16,600 job growth average for the same period over the last three years."
The number of jobs increased to 4,302,800, up by 0.7 percent, from September. Much of the job growth came in trade, transportation and warehousing, 6,800; professional and business services, 6,400; state and local government, 4,800; manufacturing, 3,100; leisure and hospitality, 2,800; financial activities, 2,700; education and health services, 1,100; information services, 800; construction, 600; and other services, such as repair, maintenance, personal and laundry services, 200.
"Over-the-year, our employers created 97,100 jobs, which is a 2.3 percent growth rate and stronger than the 2 percent national job growth rate," said Butler.
Most of the over-the-year job growth in Georgia came in trade, transportation and warehousing, 23,200; professional and business services, 20,500; leisure and hospitality, 17,200; education and health services, 16,100; local government, 10,100; manufacturing, 5,200; financial activities, 4,600; construction, 1,800; and information services, 400.
The number of initial claims for unemployment insurance, a measure of new layoffs, rose by 2,701 or 10 percent, to 29,629 in October. Most of the rise in October was due to an increase in temporary claims filed in manufacturing, especially in textiles and transportation equipment.
However, over the year, the number of claims was down by 3,270, or 9.9 percent, from 32,899 filed in October 2014. The decline came in a number of industries, including administrative and support services, wholesale and retail trade, accommodations and food services, health care and social assistance, professional, scientific and technical services, and real estate, rental and leasing.
In October, the state's labor force increased by 7,396 to 4,736,342.
Butler said job seekers should utilize the GDOL's new job listing service, EmployGeorgia.com, where 79,324 jobs throughout the state were posted in October.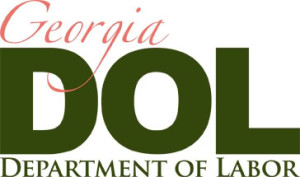 To learn more about career opportunities and GDOL services for job seekers and employers,  connect with us on Facebook, YouTube and Twitter @GeorgiaDOL, which can be easily accessed via our website at www.dol.geogia.gov.