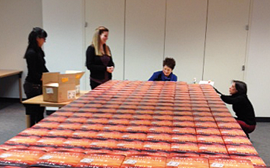 Sylvester's own, Sue Monk Kidd released another book Tues., Jan. 7. The Invention of Wings takes on both slavery and feminism and is inspired by the life of a true historical figure.
Sue grew up in Georgia in the 1950s and 1960s. As a teenager, she watched as the civil rights movement played out around her. These experiences shaped her, and still pull at her as a writer. She says it is a part of her history and a part of who she is. Racial equality and gender are social injustices that impact her deeply.
Her new novel is a story told by two women whose lives are unwillingly wrapped together as young girls. One is a slave and the other is her reluctant owner. One strives her to be free and the other rebels against her slave-owning family and becomes a prominent abolitionist and early advocate for women's rights.
When Kidd first heard of Sarah Grimke, she was intrigued. In the years before the Civil War, Grimke and her sister Angelina left the comforts of their wealthy family's home in Charleston, S.C., to travel the country speaking out against slavery. In doing so, they also had to face stiff opposition to the idea that women had a right to speak out at all, on any issue.
In one of Grimke's journals, Sue read about a young slave named Hetty who had been given to Grimke as a young girl. She transformed that story into an incident that occurs at the beginning of the novel. The fictional Sarah is presented with a slave as a gift on her 11th birthday, a gift she tried desperately to refuse.
Sue decided to make Grimke's story the basis of her novel. But she needed another, equally compelling character.  She knew from the very beginning that she couldn't tell the story of Sarah Grimke without telling a comparable story in substance to that one of an enslaved character. She wanted both worlds to be there. She didn't want it to be just one side looking at it through one lens.
Sarah and Hetty's stories are told in alternating chapters. Sarah is trapped by the limitations of her role as the daughter of a socially prominent family. Unable to stop the cruelty against slaves which she witnesses, Sarah develops a stutter. She becomes a misfit and social outcast until she begins speaking out against slavery.
Hetty, who is also known as Handful, the name her mother gave her, finds ways to defy the system that enslaves her and at times, she suffers terribly as a result. Sue says she didn't want Hetty to be seen as a passive victim. She felt everyone needed to understand that so many slaves resisted, they fought, they freed themselves, and they escaped.
The Invention of Wings has been chosen for Oprah's Book Club 2.0 List. A comment documented by Oprah states the book is a remarkable novel that heightened her sense of what it meant to be a woman, slave or free. Oprah felt that it would resonate with anyone who has ever struggled to find their power and their voice. She feels Sue has written a conversation changer.  Oprah thinks it is impossible to read this book and not come away thinking differently about the status of women and about all the unsung heroines who played a role in getting women where they are today.