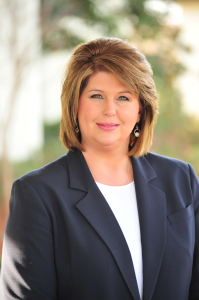 Phoebe Putney Health System President/Chief Executive Officer, Joel Wernick, announced today that Kim S. Gilman, RN has been appointed as Chief Executive Officer (CEO) and Chief Nursing Officer (CNO) for Southwest Georgia Regional Medical Center (SGRMC), a 25-bed critical access hospital managed by Phoebe in Cuthbert.  This appointment comes in addition to Kim's current role as CEO/CNO of Phoebe Worth Medical Center, a 25-bed critical access hospital in Sylvester.
"With over 20 years of healthcare experience, Kim has demonstrated her ability to improve and maintain employee and patient satisfaction, clinical excellence, patient safety, team building and operational efficiencies," said Wernick. "With this enhanced oversight, Kim will now have the opportunity to focus on further collaboration and efficiencies between the two facilities."
In 1999, Southwest Georgia Regional Medical Center was the first hospital in Georgia to receive critical access designation, ensuring vital services are available locally for residents of Randolph County.  With oversight by the Randolph County Hospital Authority, SGRMC is a non-profit, county-owned facility managed by Phoebe Putney Memorial Hospital.
"We are delighted that Kim has accepted this position," said Steve Whatley, chairman of the Hospital Authority of Randolph County.  "Her successful leadership in Worth County has proven her understanding of and ability to meet the healthcare needs of a rural community."
Notably under Kim's leadership, Phoebe Worth Medical Center has the highest employee satisfaction and the highest emergency center patient satisfaction rating in the Phoebe system.  Emergency room door-to-provider time was achieved and maintained at a wait of less than 28 minutes.  Additionally, the patient experience has been enhanced and streamlined further increasing satisfaction, utilization and quality of services.
Kim began her career at Phoebe in 1992 as a registered nurse.  In 2002, she accepted the role of CNO, with the CEO title being added in 2010.  She earned a bachelor's and master's degree in organizational leadership from LaGrange College and associates degree in nursing from Abraham Baldwin Agricultural College in Tifton.  Kim is very active in the community.  She serves on the advisory board of Albany Community Hospice and was recently appointed to the Moultrie Technical College board of directors.  She is also a member of the Sylvester Kiwanis Club, the Worth County High School Health Occupations Education Program, and is the 2015 vice chair of the Sylvester-Worth County Chamber of Commerce board of directors.  Kim and her husband, Donald, have one daughter.