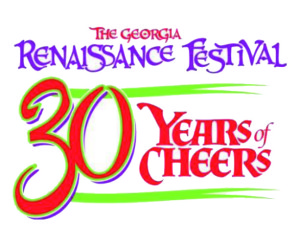 April 9, 2015…Atlanta, Georgia…April 18th & 19th is Opening Weekend of the 30th Annual Georgia Renaissance Festival where you'll find A Whole Lotta Fun…And a Little Bit of History! The Festival runs 8 spectacular weekends from April 18 through June 7, Saturdays, Sundays and Memorial Day Monday. Each weekend features something uniquely special to enhance the enjoyment of all who enter the gates of this 32-acre English Village stepping back in time to the 16th Century.
In 1986 the Georgia Renaissance Festival opened the Village Gates for the first time on 20 acres just a few miles from its current location. In 1997 the Festival secured a much larger piece of property on Highway 74 on the west side of I-85 at the Fairburn/Peachtree City exit. Through many hours of hard work by contractors, carpenters, painters, roofers and landscapers, the whimsical 32-acre Village of Newcastle and all of its permanent structures was created. The Front Gate Castle was built with a large balcony where the Queen perches high above the crowds welcoming over 200,000 people each year.
Once inside the gates, patrons can feast like Royalty on giant smoked turkey legges, frothy ales and other fine fare from the pubs and eateries sprinkled around the Village. Entertainment for all ages is abundant with over 150 shows each day performed on 10 stages. Everything from circus-style acrobatics, comedy and improv, music, dance and the main event, The Joust – It's a full day of endless entertainment for all ages.
The Village is home to over 150 arts and crafts merchants, demonstrating artisans providing one-of-a- kind treasures from Renaissance clothing, hand-blown glass art, jewelry, pottery, paintings, weaving, leather-crafting, stained glass artistry and more. This Renaissance art faire is a shop 'til you drop collectors dream.
In celebration of the 30th Anniversary milestone event, the Georgia Renaissance Festival was able to secure Equus Maximus for all 8 weekends of the 30th Season. Equus Maximus is making their only US appearance in 2015 at the Georgia Renaissance Festival performing 3 action-packed Jousts each day. These noble knights are highly skilled horsemen performing in full armor, competing with lance, sword, crossbow and chariot. This epic show is filled with thrilling stunts, trick riding and 12 tons of equine fury.
New this year!
Premium Joust Seating: Faire goers can upgrade to VIP Seating INSIDE the Joust Arena on the Royal Reviewing Stand in shaded and cushioned seating with the Queen and her Court. After the Joust these VIPs are treated to a meet 'n greet with the Knights, a photo opportunity that will last a lifetime.
The Wheel of Death – This 30-foot tall, spinning monstrosity is Icabod Wainwright's personal playground. His death-defying antics and skill will thrill and amuse you as he performs inside and outside of this giant medieval "hamster wheel". You have to see it to believe it! You're guaranteed to have sweaty palms while watching this show!
Friar Finnias Finnegan – He's a proud member of the Bawdy Bodacious Bothersome Brown Bohemian Brethren, and a fun-loving Friar that will delight you with songs of drinking and merriment! You'll find him near the Village ale taps, of course.
Dream Hayven Farm – Not only educational, but this magical interactive animal discovery garden features Kira the Unicorn with other exhibits of animal heritage breeds of the 16th Century including Fell Ponies, Olde English Southdown Babydoll Sheep, Saxony & Campbell ducks and ducklings, Cochin & Polish chickens, Lionhead bunnies and miniature Sicilian donkeys. For kids of all ages!
There are many returning favorites providing endless entertainment on the 10 stages in the Village:
The Tortuga Twins – An annual favorite – This audience-interactive comedy show will have you screaming with laughter.
The Mud Show – Splatter Time Players – It's a dirty, dirty show filled with good clean fun for all ages. See this crazy comedic duo execute back flips and belly flops right into the mud! Hint: Sit in the front rows AT YOUR OWN RISK. However, a muddy mark of distinction is provided at no extra charge.
Birds of Prey Falconry Exhibition – You'll be astounded as the spectacular hawks, eagles, owls and vultures demonstrate their free-flight skills directly over the heads of the audience! They are amazing creatures in an amazing show.
The Ded Bob Sho – We're not really sure when Ded Bob passed, but he keeps showing up every year at the Festival with his unique brand of graveside humor. Warning: Sitting in the front row may get you "Bob-mo-tized!"
Cirque Du Todd – This Festival performer (Todd Key) is the longest running performer at the Georgia Renaissance Festival – Not all 30 years, but almost, 29 to be exact. His juggling, ladder balancing, slap boxes and rope tricks will delight kids and adults.
Landloch'd – If Celtic music with a twist is what you seek, you'll enjoy this unlikely duo. One from the highlands of Scotland, and the other from the Moor-infested lands of Spain – these two have come together to share their love of Celtic and Pirate music with the masses.
Hey Nunnie, Nunnie! This sister act will have you rolling in the pews. The unconventional Mother Redempta and the mischievous ukulele wielding Sister Philomena Claire dazzle with comedic escapades – Cracking jokes, singing songs, and "counseling" unsuspecting audience members. These silly sisters could make the Pope laugh!
Pick up the next edition of the Sylvester Local News to find out how you can win a four-pack of tickets through our Photo Contest.