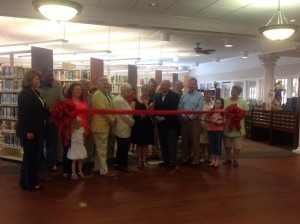 On Tuesday, September 2, the Margaret Jones Library held it's Open House and ribbon cutting ceremony to celebrate a year's worth of renovations to the nearly 30-year-old library.  Everyone was welcomed by Library Director Leigh Wiley who highlighted the updates and thanked all who were involved in renovations. It was a combined effort of State, County and City resources.
Pastor Mike Davis gave the invocation.  Among those in attendance were State Representative Ed Rynders, Senate Elect Greg Kirk, Judge Ralph Powell, Worth County Commissioner and Library Board Director Betty Bozeman, Library Board of Director Joe Banks, Worth County Commission Chair Mike Cosby, Mayor Bill Yearta, Councilman Larry Johnson, Chamber Board Chair Chris Shipp, Chamber Board Directors Kim Gilman, Jean Brooks, Sarah McCrary, Josh Beckstrom, Sarah McCrary, Shelly McPhaul and Mandy Gordon, Sheriff Jeff Hobby.  Mary King Givens, Sylvia Dinkle, Donna King and others from The Historical Society were also in attendance and provided refreshments for the event!
The Library's renovation project was completed using matching funds of $160,000 from state and local sources. From February to June, the carpet and flooring was replaced while rearranging the facility's shelving to accommodate more seating for those wishing to utilize the free wi-fi. Last summer, the ceiling was completely ripped out and replaced with new insulation, tile, and lighting. The bathrooms were also remodeled to accommodate people with disabilities, and baby changing stations were installed.