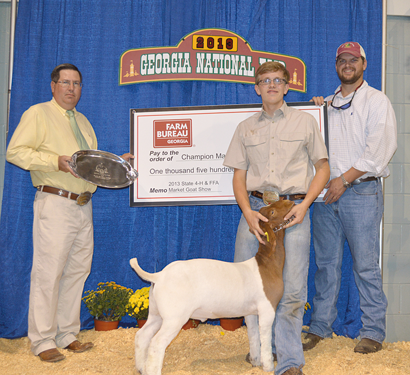 Worth County FFA member Chase Roberts won the Grand Champion Market Goat Wether Award with his Boer goat at the 2013 State 4-H and FFA Market Goat Show held Oct. 3-5 in Perry at the Georgia National Fair. This was one of several livestock competitions held during the 11-day fair.
This is the third consecutive year that Roberts has won the Grand Champion Market Goat Wether award. As the grand champion, Roberts won the $1,500 grand champion prize sponsored by Georgia Farm Bureau.
"The Georgia Farm Bureau Board of Directors is really proud to be a sponsor of the grand champions for the fall and spring state livestock shows. Georgia Farm Bureau is all about giving back to our communities. We do this to support our farm families and families who are interested in agriculture," said GFB President Zippy Duvall. "Showing animals teaches these kids how to get along with others and how to win and lose. The kids learn responsibility and other things that are important. It's a good lesson in life."
Roberts, the son of Mike and Anita Roberts of Sylvester, is a ninth grade student at Worth County High School and has been showing goats for seven years.
Founded in 1937, Georgia Farm Bureau is the largest general farm organization in the state. Georgia Farm Bureau's mission is to be the voice and advocate for the men and women who produce our food and fiber. Its volunteer members actively participate in local, district and state activities that promote agriculture awareness to their non-farming neighbors. GFB also has 20 commodity advisory committees that give the organization input on issues pertinent to the major commodities grown in Georgia.