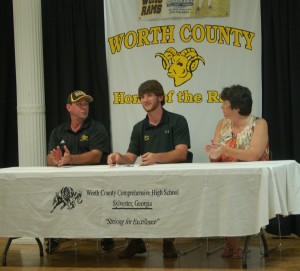 Worth County High School senior Aaron Sinclair signed a letter of intent to play soccer with Darton State College last Monday afternoon. As the goal tender for the Rams, Sinclair has played a major role in the team's success over the last four years.
As a senior, Sinclair was named First Team All Region. In fact, the goal keeper has been named to the All Region team all four years of his high school career. According to Rams Head Coach Colby Simpson,
"He's been a four year starter, and he has been a major, major asset to our program."
The coach also stated that Sinclair has contributed over 200 saves per year for the Worth soccer defense. He also played for the soccer club South Georgia United for two years. According to the SGU Coach,
"It has been an honor and a privlidge to coach Aaron. We needed a goalie and he fit right in there. Because of his commitment to practice, his commitment to train, and his commitment to being a student athlete, he has the opportunity to go play at the next level. So, I feel very honored."
The senior Ram says he plans to study physical education and he hopes to become a coach some day. According to Sinclair,
"It feels good to be able to continue doing what I love and further my education. I've known [Darton Head] Coach Bart (Sasnett), Coach Simpson actually introduced me to him. I like his coaching style, and I like the college a lot. And, I know a lot of the players there because I've played against them."
The Darton Cavaliers are a nationally ranked soccer program. The team finished a strong 2013 campaign last fall with a final record of 14-2-1.