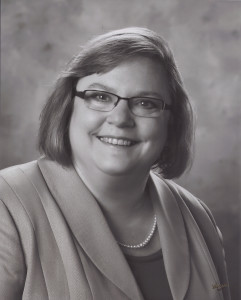 LaGRANGE, GA. – Dr. Cindy Halstead Bowen, a native of Sylvester, was presented LaGrange College's Malcolm Shackelford Distinguished Alumnus Award during the institution's 2015 homecoming festivities this month
Named for a former academic dean of the college, the honor is given to alumni who have distinguished themselves professionally and brought honor to the college.
Dr. Bowen earned an associate degree in science from Andrew College in 1983. At LaGrange, she received a Bachelor's degree in Middle Childhood Education in 1985 and a Master's degree in Curriculum and Instruction in 2006. She went on to earn a specialist in education leadership degree in 2008 and a doctorate in curriculum and leadership in 2014 from Columbus State University. While at LaGrange, she was active in Wesley Foundation and a member of Alpha Omicron Pi.
Dr. Bowen teaches sixth-grade science at Long Cane Middle School for the Troup County school system. During her 11 years, she has been an active sponsor for Junior Beta Club, a liaison for Partners in Education, school council member, hospital/homebound instructor, team leader and former curriculum leader. She also coached Academic Bowl competitors. Additionally, she is one of the teachers at her school who receives and redelivers FIT teaching and is on the task force to assess and redesign the Middle School scheduling model.
She is a mentor for new teachers and has mentored many LaGrange College interns. She also is an adjunct professor in the graduate education courses at CSU.
Dr. Bowen is an instructional coordinator for LaGrange College's Learn-2-Serve summer camp, where she teaches science to rising fourth- through eighth-graders while also working with college students enrolled in the Master of Arts in Teaching program.
Previously, she was director of the Mustard Seed Institute in Madrid, Spain, for World Missions Ministries, where she began a Moms-to-Tots ministry and trained pastors and lay ministers.
Back in the United States, she worked as one of the first teachers in Milliken's Education Program. Dr. Bowen developed curriculum and individual education programs for more than 1,200 production, administrative and management associates. She helped more than 100 students earn GEDs, and developed and implemented a team training and root cause analysis program.
Her earlier educator experience includes seventh grade at Luthersville Elementary School and ninth-grade physical science and 11th-grade American History at Troup High School.
Honors and recognitions include Teacher of the Year for 2012 – 2013, first cohort of Troup County Aspiring Leadership Institute, Phi Theta Kappa Distinguished Alumni Award in 1984 and first place in Columbus State's "This I Believe" competition.
In the community, she has held daily leadership classes at New Ventures/Youth Ventures for at-risk youth and serves on a task force to improve relationships between the police force and at-risk neighborhood residents. She is attends Clearview Chapel.
Living in LaGrange, Dr. Bowen is married to Michael Bowen and they have two children:  Jonathan Bowen, 26, Abigail Bowen, 21, a senior at LaGrange; and a grandson, Thorin.
Georgia's oldest private institution of higher learning, LaGrange College is consistently ranked among the South's top colleges by U.S.News & World Report. A four-year liberal arts and sciences college affiliated with the United Methodist Church, LaGrange offers 70 areas of study with an emphasis on global engagement and service.