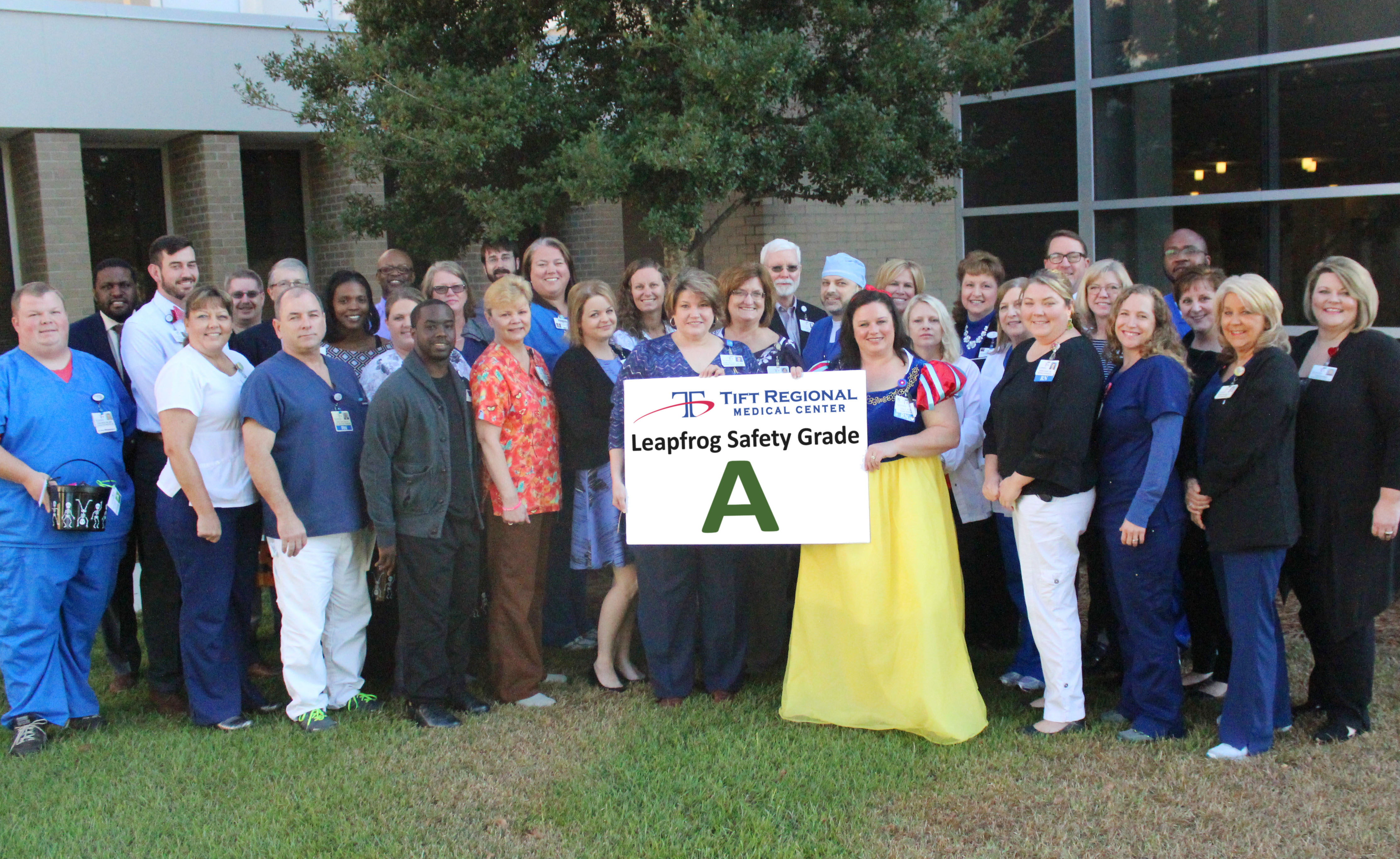 The national Leapfrog Group has awarded Tift Regional Medical Center (TRMC) an "A" grade for the hospital's efforts to keep patients safe from infections, errors and accidents for the third survey period in-a-row.   Based in Tifton, TRMC is the flagship hospital for Tift Regional Health System (TRHS).
The Leapfrog Group releases safety ratings each spring and fall.  TRMC received an "A" grade in fall 2015, spring 2016 and now in fall 2016.  TRMC is one of 16 out of 72 surveyed Georgia hospitals to earn an "A" letter grade by the Leapfrog Group in this latest cycle.
"This honor reflects the commitment of our physicians, nurses, therapists, technicians and support staff to provide safe, quality care," said William Guest M.D., TRHS Senior Vice President and Chief Medical Officer.  "We couldn't do it without a team effort."
The Leapfrog Group was formed by a consortium of some of the nation's largest corporations, including UPS, General Motors,  Walmart Corporation, FedEx and Johnson & Johnson.   This not-for-profit organization strives for safety, quality and affordability of healthcare in the U.S. by promoting transparency.   The Leapfrog Group's Hospital Safety Score uses a wide range of evidence-based measures related to patient safety to calculate a numerical score for all eligible U.S. hospitals. The numerical safety score is then converted into a letter grade designed to give the public free and unbiased information they can use to protect themselves and their families.
"Our goal is to prevent harm within the hospital," said Guest.  "Our staff remains dedicated to fostering a safe, compassionate environment of care."
The scores are calculated using 28 measures, all based on publically-available data, to produce an overall "A," "B," "C," "D," or "F" score.  The Hospital Safety Score signifies the overall capacity to keep patients safe from preventable harm.   Approximately 2,500 U.S. hospitals were assigned scores, with about 33 percent receiving an "A" grade.
LeAnn Pritchett, R.N., who serves as the TRHS Patient Safety Director, made the announcement on Oct. 31 at the system's 1000th daily patient safety check-in with hospital leaders.  The check-in is held each day between a member of the TRHS executive team and managers from nursing units and support areas.   TRHS began this practice in Feb. 2014.  The check-in serves as a huddle for managers to provide a brief roll call report on patient census and to identify and discuss safety events and risks.  Cook Medical Center in Adel connects to the daily check-in via conference call.
"The check-in has enhanced communication between departments and provides real-time understanding of what's happening at the front line," said Pritchett.  "Safety issues and concerns related to patients, visitors, and staff are shared for situational awareness.  The check-in is one of the many reasons we have attained the top grade from the Leapfrog Group."
To view Tift Regional Medical Center's full Leapfrog Hospital Safety Score, visit www.hospitalsafetyscore.org.  To learn more about TRHS, visit www.tiftregional.com.
# # #
About Tift Regional Health System
Tift Regional Health System (TRHS) is a leading health care provider serving 12 counties in South Central Georgia. Tift Regional Medical Center (TRMC), the flagship hospital for TRHS, is a 181-bed regional referral center offering signature services in surgery, oncology, cardiovascular care, women's health and more. TRHS comprises of TRMC and the TRMC West Campus in Tifton, Cook Medical Center and Cook Senior Living Center in Adel and Tift Regional Physician Group with clinics located throughout the region. Please visit www.tiftregional.com for more information.