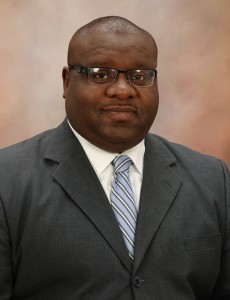 Dr. Ray Hill was named the new Superintendent of the Macon County School District on August 19 by the Macon County Board of Education. Dr. Hill was one of the three top finalists for the position.
Board Chairman Eugene Felton stated, "The Board was very pleased with Dr. Hill's qualifications, his passion for the students, and the energy he brings to the position of Superintendent."
Prior to this appointment, Dr. Hill served as principal of Greene County High School in Greensboro for three years. Under Dr. Hill's leadership, Greene County High School was named an Advanced Placement (AP) Honors School by State School Superintendent Dr. John Barge and had the third highest Student Growth Percentile in the area of physical science in the state. The high school was also the recipient of two competitive federal grants.
Dr. Hill has 23 years in the field of public education. He started his career in education as a high school band director in Dougherty County. He later served as a band director and assistant principal in the DeKalb County School System, assistant principal in the Gwinnett County School System, and principal in the Clayton County School System.
Some of Dr. Hill's accomplishments include capital outlay projects of more than $3 million as well as implementation of multimillion dollar school improvement grants which created a common vision for innovative school upgrades, administration, and student achievement with staff. He also implemented and monitored a technology 1:1 iPad student initiative which enabled every student to have electronic access to textbooks and research. Dr. Hill also launched College and Career pathways for students in grades nine through twelve, which every student graduates with a college and career track. He also launched Pre-college programs to include the International Baccalaureate Middle Years Programs (MYP) and Diploma Program (DP) certification for students.
Throughout the years, Dr. Hill has served on various committees including a Superintendent's Cross Functional Action team and Compensation Task committee for FTE. He has also completed training for International Baccalaureate Schools, Georgia Leadership Institute for School Improvement (GLISI) Principal Pilot Program and GLISI Summit and Base Camp. His extended educational experience includes training with the National Alliance for Black School Educators (NABSE). Dr. Hill has also served on a state accreditation team in the Metro Atlanta area and as a presenter at local, state and national conferences on graduation readiness, At-Risk Students, college readiness and entrance and career pathways and partnerships for students.
Dr. Hill received his Bachelor's degree in Music Education from Florida A & M University in Tallahassee, Florida and a Master's degree (1995) and Doctorate degree (2002) in Educational Leadership from Clark Atlanta University in Atlanta. He is a Marine Corp Veteran, having served in Operation Desert Shield/Desert Storm
"I am extremely pleased and truly humbled that the Board of Education has selected me to be Superintendent of the Macon County School District, and I look forward to forging the relationships and partnerships necessary to ensure that the students of this great district reach their maximum potential," said Dr. Hill.
Dr. Hill and his wife Stephanie have three children.