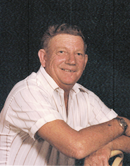 Mr. Willie Barfield, 82, of Leesburg, passed away, Saturday, July 6, 2013 Willson Hospice House.
Funeral services will be conducted at 11 AM, Tuesday, July 9, 2013 in the chapel of Hall and Hall Funeral Home. The Reverend Stan Glass will officiate with interment following at Providence Cemetery in Worth County.
Born December 2, 1930 in Sylvester, Mr. Barfield was the son of the late Jasper and Rosa Barfield. He served in the Army during the Korean Conflict and received a purple heart from being wounded two times. Mr. Barfield enjoyed fishing and was a member of the Moose Lodge. He will be remembered as a devoted husband, father and grandfather.
In addition to his parents, Mr. Barfield was preceded in death by his loving wife, Rose Blosser Barfield that passed away on December 21, 1990.
Survivors include his sons and daughters-in-law, Bill and Pat Barfield of Albany, Kenneth and Cissy Barfield of Albany and Sam Barfield of Leesburg; daughters and sons-in-law, Elizabeth Webb and Homer of Waterloo, Iowa, Sharon Mizell and Jim of Lake Blackshear, Kathy Mercer of Chipley, FL, Missy Barfield and Mikell of Ashburn, Doris Cogdill and Jay of Mariana, FL, Lisa Goodman and Jerame of Leesburg and an abundance of grandchildren and great-grandchildren.
You may express your condolences to the family by visiting Hall and Hall Funeral Home's web site at www.hallandhallfuneralhome.com.
Hall and Hall Funeral Home of Albany was in Charge of the arrangements.