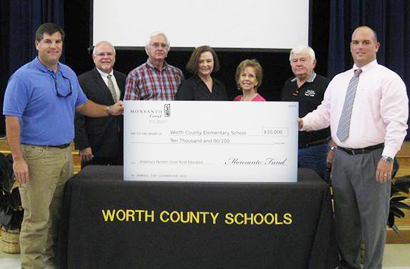 Schools across the nation are using technology to provide students personalized, hands-on experience in math classes. Thanks to the support of local farmers and America's Farmers Grow Rural Education, Worth County School District received a $10,000 grant to purchase 20 new iPads and math applications.
"One of our major initiatives in the Worth County School District is to generate student interest and engagement in math classes, through the use of handheld technology," said Worth County Elementary Principal Steven Rouse.
"Research shows that the use of handheld technology drastically improves student engagement in the classroom," said Rouse. "With that improvement, we expect to see an increase in our math achievement scores."
America's Farmers Grow Rural Education, sponsored by the Monsanto Fund, offers farmers the chance to nominate a local public school district, which can then compete for a grant of up to $25,000 to enhance math and/or science education. More than 1,150 nominated school districts submitted applications. The Monsanto Fund will invest $2.3 million through America's Farmers Grow Rural Education grants this year.
A check presentation was held on Friday, Oct. 11, during a school-wide assembly at the Worth County Elementary School, where a Monsanto representative presented the district with its check.
Nominated school districts across the country submitted grant applications in the spring. During the summer, a panel of educators from ineligible districts reviewed and evaluated applications based on merit, need and community involvement. The strongest submissions were then sent to the America's Farmers Grow Rural Education Advisory Council. The Advisory Council, comprised of farmer-leaders with an interest in agriculture and education, selected the winning grant applications from this pool of finalists.
"A record number of America's farmers stepped up this year to improve math and science education in farming communities across the country," said Deborah Patterson, Monsanto Fund president. "By nominating their local school districts to compete for this grant opportunity, these farmers demonstrated their dedication to growing the next generation. The Monsanto Fund is committed to strengthening rural America and this program is an exciting way to honor that commitment."
America's Farmers Grow Rural Education launched nationally in 2012 and has grown to include 1,271 eligible counties in 39 states. Since its inception, the program has invested more than $4.8 million in rural school districts across the country.
America's Farmers Grow Rural Education helps farmers support math and science education in local rural school districts. Currently in its second year, this program is part of the Monsanto Fund's overall effort to support rural education and communities. America's Farmers Grow Communities, which offers winning farmers the chance to direct a $2,500 donation to a nonprofit organization in their county, is also part of this effort. Enrollment for 2014 Grow Communities is currently underway. Visit www.GrowCommunities.com to enter to win $2,500 for your county.
To date, these programs combined have contributed more than $15 million to rural communities. To learn more about either program, please visit http://americasfarmers.com/.