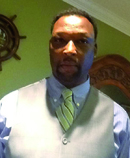 A Sylvester native along with his wife and son were killed in a horrific ten car accident involving three tractor-trailers on Interstate 65 in Montgomery, Alabama on the morning of March 2. Reports indicate that Dedrick Edwards, Sr. and his family were returning home from Texas in dense fog when traffic suddenly slowed causing a chain reaction wreck. Dedrick, his wife Christine, and their 10-year-old son Dedrick, Jr. were all killed in the pile up. Their 8-year-old daughter also suffered critical injuries. As many as seven other people were also injured in the carnage, though the injuries were supposedly not life threatening.
The 50-year-old Sylvester native was reportedly returning to their home in Swansboro, North Carolina from a trip to Texas where they watched an older daughter graduate from Air Force boot camp. Edwards served in the U.S. Marine Corps, and the family owned a child care business in North Carolina. His 49-year-old wife Christine grew up in Poulan where her parents and brother still reside.
Funeral services for Mr. Edwards and his family were held at Unity Baptist Church in Sylvester on Saturday, March 14 at 3:00 p.m. They were laid to rest in the Shepard Memorial Garden Cemetery after the service.