Located on Front Street is a store that has been apart of Worth County for many years. Worth Hardware     has been in operation for 40 years now. Owned and operated by Irvine Hatcher, the store holds many memories for several individuals through out the county. Upon entering the store, the feeling of a bygone era can be felt as one passes by the vast array of hardware supplies on the shelves. At the counter, patrons are met with a firm handshake and a smile from a wise man accompanied by his lovely wife. The aura of the store feels like that of a home and for just a moment your mind travels to another time before the distractions of today.
After talking with Mr. Hatcher, it's hard to believe that he has ever had a stranger come into his store or even his life. Mr. Hatcher is 83 years old and has been married to his wife, Grace Hatcher, for 59 years: A rarity in today's world.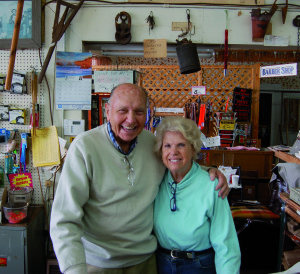 Hatcher and his wife have faced the hardship of losing a son to cancer. Hatcher stated, "It's something you really never get over." After losing so much, Mr. Hatcher and his wife continue to serve the county they grew up in by offering not only hardware supplies but also the advice needed to fix whatever problem a neighbor may be facing, whether it's hardware related or life troubles.
Worth Hardware is not an average hardware store. Mr. Hatcher also has a barbershop located in his store where he personally cuts the hair of Worth County citizens. A barber's chair might seem out of place next to nuts and bolts, but like the rarity of the long lasting marriage he and his wife share Mr. Hatcher finds a way to make it work.
After being asked what his plans were for when he retires Mr. Hatcher grinned and said, "I'll go up to the funeral home." Mr. Hatcher has no plans of leaving the business he has built with his own determination.