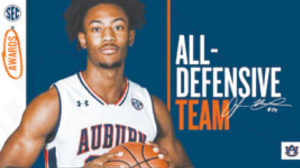 Story by Cale Colby
Despite suffering a tragic ankle injury one month ago, Worth County native and Auburn Tigers sophomore Anfernee McLemore continues earning accolades as March Madness begins. The 6'7″ 220 pound forward had his second college season cut short on February 17, but still played a major role in Auburn's success leading up the SEC tournament as well as the NCAA tournament set to begin on Thursday. McLemore tallied 73 blocks in his sophomore effort to leave him ranked 16th in the nation in blocked shots. He also ranks 8th in the history of Auburn's basketball program with 110 rejections in just two seasons. In the 2017-18 season, Anfernee has averaged over seven points per game and more than five rebounds per game. All together, he scored 201 points for the Tigers before suffering a horrific ankle injury that required immediate surgery and will keep him off the court for at least three more months.
Meanwhile, the Tigers tied with Tennessee as the regular season SEC Champions before moving into the SEC Tournament last week. Unfortunately, the Warwick native's team fell to Alabama who ultimately lost to Kentucky before the Wildcats upset Tennessee in a thrilling championship contest. McLemore's presence has definitely been missed since he was carted off the court on a stretcher in mid February.
For his efforts on the court this season, McLemore was named to the SEC's All Defensive Team last week. He was one of only five players to earn this distinct honor.