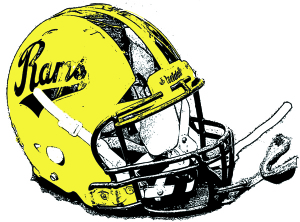 Football's All-Region roster was released last week, and a slew of Rams were named among the best players in Region 1-AAAA.
Among the first team athletes, Zytavious Anderson was chosen after racking up 869 yards in only eight games this season. Other notables on the list include Alex Hines at tight end, Jacard Parker on offensive line, Jamill Curry on defensive line, and Trey Lucas in the linebacker position. Eric Burrows was also named to the first team as a defensive back with four interceptions, two deflections, 36 tackles, and 31 assists.
As for the second team athletes, four Rams made the cut including Dontavious Buford. As a running back, Buford carried the ball for a total of 596 yards (an average of over eight yards per carry) and eight touchdowns on the season. Other second team players include Justin Crosby on offensive line, Quentavious Holley on defensive line, and Cameron Farley at linebacker.
Additionally, five Rams were named honorable mention athletes on the All Region team. These players include Justin Hope at running back, Calvin Warren on offensive line, John David Acord at tight end, and Toddrick Jackson at defensive back. In addition to 19 tackles and 15 assists, Jackson tallied a fumble recovery, an interception, and a deflection on the season.