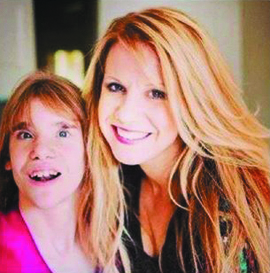 On February 13, Moultrie's Heritage Church will host a magical night for some very special teens. Five years ago, Sylvester resident Nettie Hatcher started "Breathe" at Heritage. The program offers a special needs ministry for children with disabilities, and offers parents the opportunity to relax and enjoy church's service and message.
Nettie says that raising her daughter Jessica, a child with a disability, taught her that kids with special needs are often left out of some very important events like prom. Through Breathe, the church was made of aware of "Night to Shine," an event sponsored by the Tim Tebow Foundation. Because it is also the foundation's fifth anniversary, Tebow decided to provide a special needs prom for 50 churches across the nation. After applying and interviewing, Heritage was one of the lucky churches to be selected, and Heritage was the only church picked in Georgia.
"Our special needs ministry at Heritage is very unique," Hatcher says. "There are not many like it around here. "
At the prom, the girls will have their hair and makeup done while the boys get their shoes shined. They will all get to ride in a limo, feast on a fancy dinner, and a DJ will provide entertainment for the teens. And, all of the participants will be crowned as prom kings and queens.
The church is collecting prom dresses and suits as Nettie says they want the kids to get the full effect of being dressed up and going to prom. The event is open and free for all kids and adults with disabilities. Anyone interested can go to www.heritagelife.org and register for the event. The site will ask for clothing sizes so everyone can come in and get fitted in their formal wear.
For more information, or to donate suits and dresses, contact Heritage Church at 229-891-3421, or email Hatcher at nettie@heritagelife.org.