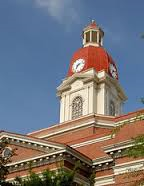 Date to Report: Monday, January 26, 2015 at 9:30 a.m.
JURY SERVICE A VITAL FUNCTION OF DEMOCRACY
Jury service is one of the highest duties of citizenship. It will give you an opportunity to learn about Worth County's system of justice. While it may require some adjustment of your normal schedule and routine to serve as a juror, the judges hope that any inconvenience will be minimal and they thank you, in advance, for your sacrifice and effort.
ATTIRE: Please use good judgment and report to jury duty properly dressed. Shorts, miniskirts, tee shirts, tank tops are INAPPROPRIATE ATTIRE.
 HARDWARE: Computers, cellular phones and pagers are not permitted in the courtrooms or jury deliberation rooms. No radios.
Jessica Nicole Wall
Dustin Kiefer Daughtry
Casey Hill Tomlinson
John Anthony Nesmith
Thomas Richard Paramore
Sara Louise Walker
Kenneth S Courter Iii
Anthony John Cross
Johnnie Lewis White
Barbara J Redmond
Anetia Morris Roberts
Lisa Denise Tyler
Jonthan Conley Avery
Shelia Johnson
Barbara Sparrow Mathis
Sharon Lee Strangward
Jamiqus Jajuan Smith
Jeremy Wayne Moore
Crystal Marie Mills
Brenda Sue Wilkes
Jasmin Elanda Hudson
Sonia L Coxwell
Donald Douglas Fairbanks
Dewey Lynn Hatcher
Austin Montgomery Stone
Matthew Wade Roach
Kerry Wayne Mallard
Rosco Byrd
Clarence Burch
Hugh James Merritt Jr
Charlotte S Jolley
Tanisha Nicole Jones
Pamela Spillers Windows
Sandra Evette Small
Ronnie Michael Hope
Devon Alexander Austin
Garrett Lyn Johnson
Suzanne Shelton Avera
Webster Harris Salter
Teresa J Knight
Marteshia Equille Green
Calvin Mathew Oliver
Ida M Mills
Bryant Nicholas Williams
Randal Roy Jordan
Ardrianna Shanette Lawson
Clifton Eugene Bell
Kimberly Ann Emerson
Austin Tyler Duncan
Alvin E Godfrey
Barbara A Adams
William Jacob Barksdale
Patricia Davis Sumner
Ashley Nicole Thomas
Alisha Robin Kennedy
Clarence Michael Jones
Otha Floyd Spradley
Barbara H Braswell
George M Hart
Bobby Patrick Hall
Caroline Denise Jones
Jose Angel Valentine
Marilyn Melissa M Thomas
Margie Lynn Hatcher
Wayne Edward Cunningham
Leonard Terell Evans
Floyd Roddy Jr
Robbie Day Collier
Steven Claude Newell
Tracy L Jones
Johnny Joe Coston Jr
Jason Darrell Parrish
Carlease Latrease Crapp
Bryan Alan Merritt
Donavon Rain Heard
Rebecca A Edwards
Brittaney Nicole Hall
Eloise Brantley Billingslea
Jane J Smith
Vonnice Gill Brown
David L Carroll
Cynthia Ann Cuffie
Catherine Marie Windham
Donnell Smith
Carolyn Walker Cleveland
Virgil Scot Brandon
Kurt Bobby Spence
Wanda Duke Adams
Russell Cooper Slappey Jr
Tasha Wood Patterson
Corey Daniel Marchant
Charles Steven Keaton Jr
Pamela Lynn Hill
Wanda Yvonne Pride
Rhonda Kaye Rigsby
Calvin Leefate Mcmillan
Benjamin D Willingham
Jerry Dean Tranbarger Iii
Kayla Courtney Stolze
Barry Emmett Reese
Steve Michael Hamilton
Gary Edward Parker
Robert Diaz Espinoza
Samuel Hardison Favreau
Robert Bruce Bennett Jr
Tracey N Daniels
Gwendolyn Paulette Wade
Imogene Mcgee
Elizabeth W Cowles
Nikkie Tani Warren
Tracy Dean Cox
Joseph Lee Cross
William M Young Jr
Linda Faye Hill
Gerald W Sledge
Calvin Leonard
James Richard Barker
Autumn Renee Foster
Eric William Dixon
Lester Bryant Chafin Iii
Martin Wendell Newell
Tammy Jean Singletary
Kayla Morris Couch
Jacquelyn Antonio Sears
Bethany Nicole Baggett
Gregory Joe Ingram
Megan Marshall
Latangela Meshawn Allen
Johnnie Will Thomas
James Wendell Gilbert
David Robert Frazier
Herbert Lee Denton
Earnestene N Rockwell
Gregory Leroy Aldridge
Samantha Ann Matthews
Mary Kathryn Guy
Christa Kay Long
Charles Raymond Arnold
Jimmy Dawson Buchanan Jr
Ashley Angel Newell
Richard C Burrell
June Walters
Clara Ealey
Terri Shanice Johnson
Crystal Tennille Bell
Krista Dawn Wilkerson
Lindy Johanna Redding
Jeffery Alan Mann
Ivy C Lonergan
Devette Machell Fowler
Kavoris Demechea' Johnson
Tommy Derek Smith
Ashley Sharae Gowdy
Aquwona Da'cola Curry
Mallory James Barfield
Diana Laverne Brown
Benjamin W Culpepper
Lorenzo Drayton
Tiffany Nicole Mcdowell
Steven Hayden Roberts
Kayla Leana Marchant
David Wesley Lassiter
Barbara S Wood
Jim C Mallard
Sharon Loreita Walk Patterson
Taylor Blaine Elder
Clara June Watson
Jessie Dawn Conger
Ashley Nichole Jones
Caleb Reid Tyra
James Walter Wooley Jr
Michael Bernard Jackson
Debra Espe Bass
Kendra Nekeisha Hill
Jessica Nichole Hilton
Ira James Wilson
Quentavious L Aikens
Blake Dale Johnson
Mary Katherine Leddon
Crystal Dawn Miles
Dawn Marie Feller
Lynda Marie Conte
Kassidy Raye Powell