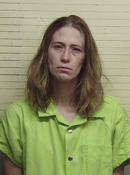 At approximately 12:02 a.m. this morning, a 2002 Pontiac Aztec matching the description of a vehicle being sought in an Amber alert, was noticed by Sylvester Police Officers. Corporal Jonathan Luna, Patrolman Paul Klein, and Patrolman Adam Celinski initiated a stop of the vehicle on East Franklin Street (Hwy 82) in Sylvester.
Thirty-four-year-old Donald B. Harris and 32-year-old Allison Studdard were arrested, without incident. The toddler, also in the vehicle, was checked out by medical personnel and was released into the care of the Georgia Department of Family and Children Services.
An amber alert had been issued by authorities in Caleodnia, Mississippi after learning Harris and Studdard fled their home with their tw0-year-old daughter. Authorities received a call at 5:30 a.m. yesterday from the toddler's grandfather reporting the death of the couple's seven-month-old daughter. While the grandfather was on the phone with law enforcement officials, the couple took the two-year-old and ran. An autopsy is being performed on the infant; however, the coroner on scene reported no obvious signs of injury.
Harris and Studdard were transported to the Worth County Jail where they were charged with felony endangering of a child under 14 years of age, felony illegal possession of a controlled substance – Schedule III, and misdemeanor violation of child restraint law and seatbelt violation. The two will be returned to Mississippi to face outstanding charges once the extradition process is finalized.