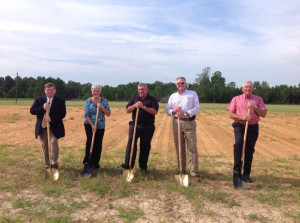 On Sunday, August 3rd, Antioch Baptist Church held their ground breaking ceremony as the beginning of the first phase of their new church building which will be located at the corner of Doe Hill Road and Georgia Highway 313.
This is the moment of answered prayers and a testimony as to what can happen "When one works with God," a spokeperson commented. Work on the new building is expected to begin within the next two months.
When all phases of construction are complete, the building will house a 255 seat sanctuary, 14 classrooms, kitchen/annex, pastors study and a media room. The Rev. Bruce Gordon is pastor of the church and the building committee is composed of: president, Doyle Medders; vice president, Stacy Jones; Secretary, De De Hathcock; and treasurer, Roy Powell.
A brief history of the church shows that it has survived through two tornadoes; one in 1931 and 1973; in 1974 an annex and two Sunday School rooms were added; in 1976 three additional Sunday Schools rooms and a pastor's study were constructed.
In 1980 the sanctuary was enlarged and two more Sunday School rooms were added; in 1991 the annex was extended and the nursery was enlarged, plus another Sunday School room.
Again in 1998 four new Sunday School rooms and a storage room were constructed, and in 2005 the church purchased ten acres for the new sanctuary. A comment was made that "With God all things are possible!"
Worship services are held every Sunday beginning with Sunday School at 9:45, morning worship services at 10:50, evening worship services at 6:00, and at 7:00 p. m. Wednesday services are held for all ages.