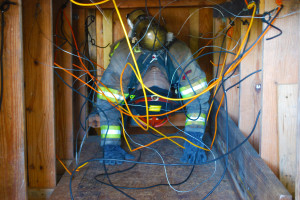 Worth County Fire Rescue held a training class for 5 fire recruits on Tuesday, August 5th and other fire personnel on Saturday, August 9th. The purpose of the training was to test the recruit's basic firefighting abilities and RIT (Rapid Intervention Team) training, which consist of training in wall search, firefighter removal and firefighter survival. RIT training was implemented after Michael Sequin, a Buffalo, NY firefighter, perished in a 1997 two and a half story structure fire due to entanglement. Sequin passed away after being transported to the hospital from smoke inhalation. This specialized training will better equip firefighters on rescue situations if the need arises. Currently, an average RIT team consists of four firefighters, which do not enter a structure unless a mayday call is received by firefighters inside.
Another fallen firefighter, which prompted stricter training of personnel, was Mike Langvardt of the Denver Fire Department. Langvardt lost his life in a 1992 structure fire because the narrow space prohibited him from exiting the residence. Upon his passing, the Denver Fire Department implemented the "Denver Drill", which is meant to train firefighters on confined space rescue.
Brian Aultman, Don Key and Willie Jackson are the Certified Trainers for County Fire. Aultman stated, "Firefighters learn from tragedy because we do not want the death's of fallen firefighters to be in vain". Aultman, along with the other trainers are the ones who erected the training simulator with the help of other fire personnel.
To help fire personnel better understand fire fatalities, the CDC (Center for Disease Control) implemented a NIOSH (National Institute for Occupational Safety and Health) Report, which provides information to Fire Rescue on what was performed properly and what could have been done differently to prevent a LODD (line of duty death). "This report has been proven invaluable", states Ray Salter, Captain of WCFR. WCFR officers and personnel continue to promote advanced training techniques in order to efficiently and effectively perform their duties in protecting life and property.