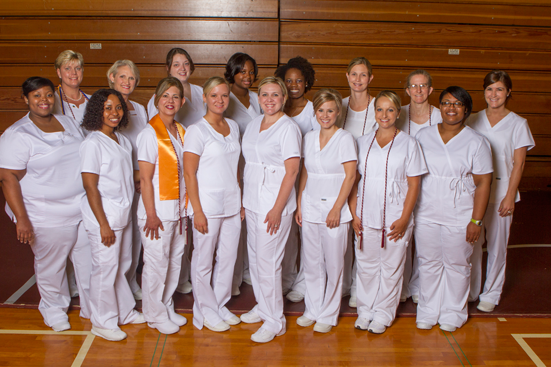 Last Friday Darton State College's Nursing Division held its traditional Nurse Pinning Ceremony to honor its graduates. Sixteen students from the Albany area graduated from the Darton State College nursing program with an Associates of Science degree, and are now eligible to take the licensing examination to become registered nurses.
The graduates include: Young Bozeman (Sylvester), Susan Flowers (Bainbridge), Janet Ginder (Albany), Tina Giovingo (Dawson), Mary Hart (Leesburg), Robin Hussion-Dale (Albany), Kemberly Miller (Leesburg), Rachel Oluwo (Leesburg), Nicole Patteson (Albany), Carrie Pittman (Albany), Latifah Powell (Leesburg), Ebonee Purnell (Albany), Randee Roberts (Sylvester), Stacie Rolland (Leesburg), Krishondria Thomas (Dawson), and Theresa Uzodinma (Albany).
Graduates from Darton's nursing program consistently have among the highest first-time pass rates on the licensing exam in the state.  Darton State College's program has provided more than 2,700 nurses to the Southwest Georgia area since the college opened its doors in 1966.
For more information about Darton State College's nursing program or nursing as a career, call (229) 317-6740 or visit the Web at www.darton.edu.