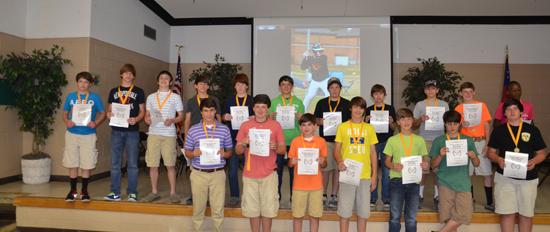 Worth County Middle School Rams Baseball Team held their end of Season Banquet on May 7th at the Middle School Cafeteria.  The parents provided chicken fingers, french fries and green beans catered from Ed's Truck Stop.  To top off the evening a decorated cake was presented to commemorate the evening.  Before the awards began, the players, parents, and their family were entertained by a slideshow of photos taken throughout the season.
Coach Jimmy Hughes and Coach Kelly McDougald presented all the boys with 2nd place Region certificates and medallions.  They went on to award several of the players with trophies in the following categories:  Hunter Goodwin received the Most Hits Award with having 13 hits.  He also received the Best Pitcher Award.  Goodwin pitched 18 2/3 innings with 27 strikeouts.  DJ Edwards was awarded the Highest Batting Average with a .527 ba.  Best Defense went to Landon Paramore who had the least amount of errors on the field.  Seth Newell received the On Base Percentage Award with .629 obp.  This award is calculated by reaching first base safely either by a hit, walk or hit by pitch.
Last, but surely not least, is the coveted Ram Award, presented to the player who demonstrated the most effort throughout the season.  Riley Kelly was selected for this award because as Coach Hughes said "He hustled when he was asked to do anything, he didn't complain or talk back, he just did it."  "He (Riley) gave 110%."  Coach Hughes gave an example during the presentation of the award that after one home game Riley was in the home dugout picking up the trash that was left without being asked.
Coach Hughes also recognized several parents for their contribution to the team.  The score book was kept accurately by Leighann Goodwin;  Melissa Kelly and Glenda Ragans kept the parents informed of any information the coaches needed to communicate.  They also oversaw the concession stand and ensured parents were available to make certain the infamous hotdogs, chips and drinks were ready for all who came and supported the Worth County Middle School Baseball Team; because there's nothing like a hotdog at the ballpark.
Coaches Hughes and McDougald expressed the need for the boys to continue their practice of the game.  Don't stop just because the season is over.  It was suggested they continue to throw, hit, and field the baseball until the time comes again next year.  The Coaches said goodbye to the eighth graders: Joshua Coker, Tyler Goodwin, Ethan Hamilton, Michail Howell, Riley Kelly, Seth Newell, and Landon Paramore.
At the end of the program the parents presented Coach Hughes and Coach McDougald with a gift thanking them for their time and efforts of this season.
Coach Hughes told the returning players he was excited and looks forward to another great season in 2014.