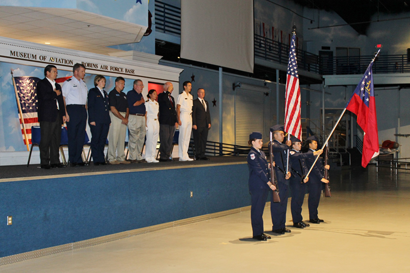 Warner Robins, GA – U.S. Congressman Austin Scott (GA-08) held the 2013 Military Academy Day at the Warner Robins Museum of Aviation this past Saturday, September 14, 2013. The event provided Eighth Congressional District students currently in 8th through 12th grades, parents and counselors the opportunity to learn about and speak with representatives from the five United States Military Academies and University of North Georgia.
"It's truly inspiring to see so many young and talented Georgians desire to serve our nation by joining the armed forces," said Rep. Scott.  "This dedicated group will surely lead our country to a brighter future. Best wishes to all of our applicants as they pursue their goal of attending one of the U.S. Service Academies and serving our country."
Academy representatives from each military service academy, which include the U.S. Air Force Academy in Colorado Springs, Colorado, the U.S. Naval Academy in Annapolis, Maryland, the U.S. Military Academy in West Point, New York, and the U.S. Merchant Marine Academy in Kings Point, New York, were present to provide information and answer questions about the application and admissions process.
Interested students must submit their completed Military Academy Nomination packet to Rep. Scott's Tifton office by October 25, 2013. More information and specific guidelines on service academy nominations are available on Rep. Scott's website at http://austinscott.house.gov/index.php?option=com_content&view=article&id=4243&Itemid=300175