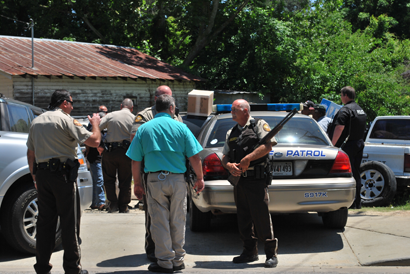 Six individuals are currently being held in the Worth County jail charged with trafficking. Acting on information provided to law enforcement officials, an estimated 15 officers from Worth County Sheriff's Office and the Sylvester Police Department in conjunction with the Mid-South Drug Task Force, Sumter County Sheriff's Office and the Tift County Sheriff's Office, worked together to execute a search warrant at Hooks Auto Repair on Pope Street at approximately 2:30 p.m. Tuesday, May 28th
"It's one of the largest drug busts in South Georgia that I'm aware of," stated Worth County Sheriff Jeff Hobby.
Upon arrival, officials secured the premises and discovered several cardboard boxes stacked in the back of 63-year old Clifford Lee Alford's pickup truck. Weighing in at 799 pounds, the marijuana has an estimated street value of approximately $958,000. A thorough search of the property resulted in the seizure of bank statements and financial records, as well as the impounding of four vehicles.
Taken into custody were John Lee Miller, 62, of 303 W. Pope Street, Sylvester; John A. Collins, 63, of 820 Whiddon Mill Road, Sumner; Willie Lee Hooks, 65, of 104 Pamela Drive, Sylvester; Clifford Lee Alford, 63, of 119 Courtney Street, Sylvester; Willie James Jones, 61, of 483 W. Railroad Street, Poulan; and Calvin Roy Hooks, 60, of 121 Markel Street, Sylvester.
Calvin Hooks had been previously charged twice with trafficking in the 80's and Willie James Jones is currently serving federal probation after being released in 2011 following imprisonment for distribution of cocaine.