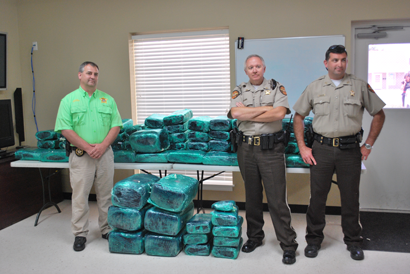 A press conference was held early Thursday afternoon at a location in Tifton regarding the large marijuana bust made on Tuesday at Hook's Automotive in Sylvester.
Tift County Sheriff Gene Scarborough began by thanking all of the law enforcement officials involved in the success of the seizure of nearly 700 pounds of marijuana. He singled out Crisp County, Mid-State Drug Task Force, Sumter County, Sylvester Police Department, Tift County and Worth County for their hard work. Sheriff Scarborough revealed that law enforcement had obtained their information regarding the suspects through confidential sources and surveillance.
The marijuana has an estimated street value of over 700,000 dollars. Scarborough said that the initial investigation into the matter lasted several weeks and that law enforcement are expecting future arrests to be made concerning this particular bust. Scarborough also stated he believes this to be one of South Georgia's largest drug busts and hopes to see agencies continue to work together.
Sheriff Jeff Hobby was then introduced to answer a few questions concerning his involvement in the case. Hobby stated he was initially quite shocked at the amount of marijuana that was confiscated and thankful that law enforcement was able to prevent it from being distributed. Hobby believes Worth County was probably used as a drop point or gateway for surrounding counties. And like Sheriff Scarborough, he also remains hopeful that with a lot of hard work and dedication by local police departments, the streets of Worth County and its surrounding communities will one day be cleaned up.
In regards to the six suspects still in custody, Sheriff Hobby said they had been cooperative when questioned about the details surrounding their arrests. A question arose about possible gang involvement, such as a Mexican cartel, but Hobby says that this matter is still under investigation.
Sgt. Kevin Griffith of the Sylvester Police Department was then introduced and given the opportunity to answer questions concerning the involvement of his K9 dog. According to Griffith, the dog was utilized after the seizure had been made and only for learning purposes because the dog isn't normally accustomed to dealing with such large amounts of marijuana.