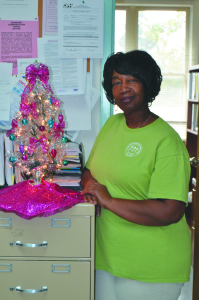 The Worth County Health Department will bid goodbye to one of their angels on Christmas Eve when Cynthia Allen, a 36-year employee for the local health department, retires. The Sylvester native began her career shortly after she finished high school, and she has served under three county nurse managers in her time.
Reflecting on her service to Worth County's residents, Allen says,
"This has been my home for a long time… I always wanted to help people in any way that I could, whether it be food or money, and a position came open here.  Caroline Forehand, the nurse director at the time, she interviewed me one on one. She trained me. I started with her."
The Administrator of Operations II job made her close to many Worth residents and families over the years. Indeed, she has been a blessing to the community in a number of ways. She says there is a lot more to the job than administering vaccines. According to Mrs. Cynthia Allen,
"Public Health encompasses a vast amount of services. We give TB shots, and we go to people's homes and administer meds. We also offer family planning. We help people fill out forms that they don't understand. One time, a man lost his wife and just knew that we could help him find her."
She continues,
"She had gone off with a church group and left her pocketbook at home. And, her medicine was in her pocketbook. He said, 'I know y'all will help me find her if nobody in this town will.' We found her. She was out of town at a church. I mean we called all kind of churches."
On her plans after retiring this week, Allen says she wants to visit her son Toney in Alabama. She also says that she may look for a part-time job soon, just to have something to do. But, she will be missed by many when they no longer see her smiling face behind on the other side of the lobby's window.
As WCHD's current County Nurse Manager Gina Connell explains,
"Our patients ask for her by name, so they're going to miss her. It's an emotional time for our health department because she has been here for so long, and we're going to miss her too. She is going to leave some big shoes to fill."