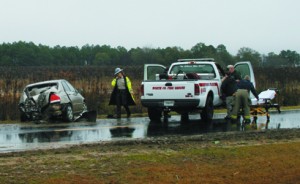 Just before 11:00 Monday morning, Worth County Fire-Rescue and Phoebe Worth EMS units were dispatched to Sumner Road in reference to a single vehicle accident with injuries. Upon arrival, rescue personnel found a badly damaged car in the ditch.
With Monday morning's heavy rainfall, the driver apparently hydroplaned before leaving the roadway and coming to a rest in the ditch. According to Phoebe Worth EMT Irvin Hall, there were pine trees with bark scraped off of them, and the amount of damage to the vehicle indicates the car probably struck the trees.
The woman driving was the only occupant. Luckily she only sustained minor injuries in the crash. She was transported by ambulance to Colquitt Regional in Moultrie for treatment.