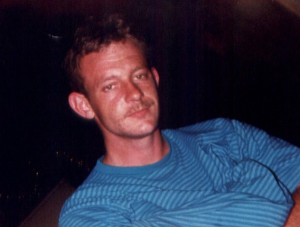 Mr. Homer Edward "Eddie" Lashley, 42, of LaGrange, passed away Wednesday, September 17, 2014 at West Georgia Health Systems in LaGrange.
Mr. Lashley was born February 15, 1972 in Sylvester, Georgia the son of the late Homer Lashley Jr. and Mrs. Mattie Purmelia Foster Lashley. He was a member of New Hope Baptist Church in Sumner, Ga., and had worked as an Assistant Supervisor for New Ventures until debilitating health left him disabled for several years. He enjoyed spending time with family and friends very much.                       .
He is survived by his mother, Pam Lashley, of LaGrange, aunts, Ruth Diana Bentley, Mattie Faye Moore, uncles, William Franklin Foster, Grady Andrew Foster, Jessie Lee Lashley, John Moore, Robert Moore, Freddie Lee Moore and Joe Moore. He was preceded in death by his father, and a brother, Gregory Scott Lashley.
Visitation will be from 5:00 pm to 7:00 pm Saturday, at the funeral home, Funeral services will be at 2:00 pm, Sunday, September 21, 2014 at Hunter-Allen-Myhand Funeral Chapel with Pastor Charlie Metcalf officiating. Interment will follow in the Mountville Cemetery.
Pallbearers will be Chad Moore, Jamie Foster, Marlon Gomez, Fabian Barbars, Eric Wren, Benji Moore, Micah Orantes and Bubba Crane.
To sign the online condolences please go to www.hunterallenmyhand.com