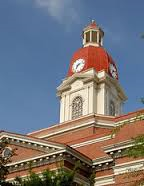 The Worth County Board of Commissioners held a called meeting at 4:00 p.m. last Thursday evening, just before their final meeting of the year, to discuss finances. In their first meeting for the month of December, board members revealed that the county may not be able to repay their TAN note (tax anticipated note) this year in the amount of $1.5 million. Additionally, the county cashed in $300,000 worth of CDs that needed to be re-purchased quickly. Furthermore, a vehicle was recently purchased to be shared by the tax commissioner and tax assessor, after bids for the SUV were rejected on Tuesday, December 9.
Last Thursday evening, the meeting began with Commissioner Bettye Bozeman stating that she was in the tax commissioner's office on Tuesday to pay her property taxes (due on the 20th of December) and a woman in the office was complaining about how high her taxes were. Bozeman then stated,
"Don't blame me, I didn't vote for it, but there is so much waste in this county government."
Mrs. Bozeman said the tax commissioner Tabitha DuPriest heard the conversation and came out to ask what the problem was. At this Bozeman asked if she was withholding money due to the county. Later that day, Dupriest delivered a check for $2 million to County Finance Director Laverne Watkins. This money was used to pay off the TAN note, pay back the CDs, and hopefully provide for payroll and other expenses through the end of the year.
With the tax commissioner in attendance for the meeting, DuPriest told the board that she was not holding any money, and the $2 million was collected during the month of December from property taxes. She then presented documents to the board members showing that her office has collected $5,889,000 during the month of December through the 17th. Dupriest also offered a sheet to the board showing projected collections for the next six months.
The tax commissioner also stated she could advance more if the county needed it, though they are only due $400,000 more through the end of the month, but Mrs. Watkins said the county should be good through the end of the month until the tax commissioner's office could close out for the month of December. Watkins also mentioned that she hasn't finished paying November's bills yet, and she would have a better idea of where they stand when those bills were paid. And, January's first payroll payment will be due within the first week of the month.
Pick up this week's edition of the Sylvester Local News for more on this story…..