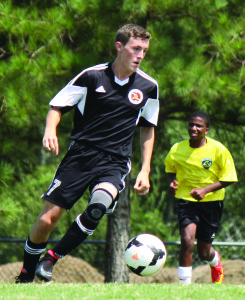 Out of 300 top athletes to tryout last month, Worth County sophomore Hunter Jones was recently selected among 42 Georgia soccer players to participate in the state's Olympic Development Program. The local footballer began playing soccer with the Sylvester-Worth County Recreation Department at the age of five. By nine, he was playing with a regional travel ball team, and at 15-years-old, the high school student is ready for his second season with the Rams varsity soccer program to begin in the spring. Meanwhile, he stays in practice during the offseason by playing on the South Georgia United U16 club team.
Unlike most South Georgia soccer players however, Jones was offered the unique opportunity to travel to England during the summer to practice soccer for a week with some of the best players in the world. He says he has been asked by his coach over the last couple of years to travel for training, but he jumped at the chance to visit England. Additionally, Coach Lee Blenman is a British man who has access to extended opportunities for the young players in his home country. The team toured several cities including London and Chelsea during the week of training. The WCHS sophomore says,
"Ever since I was little, I wanted to go over to England and play because that's where all of my favorite teams like Manchester United were. We got play against three really good semi-pro teams. These are people in our age group who are already getting paid to play."
He says the experience in England helped him to grow technically, physically, and mentally on the field. He realized the potential and physicality of players his age who are dedicated to being successful athletes. Indeed, the trip broadened his perspective both on and off the field, but Jones did not know that a much bigger opportunity would be waiting when he returned to Sylvester.
According to Georgiasoccer.org, the Olympic Development Program (ODP) was created 25 years ago to serve two purposes. The program helps coaches to identify national team players at the youth level, and ODP provides development opportunities for these "potential national team players." Although in recent years, the program has also served as a recruiting tool for college coaches. As, "College coaches consider a player's participation in ODP as an indicator of talent and soccer ambition." As Worth County's head soccer coach Colby Simpson further explains,
"These kids get the opportunity to get their names out there and be part of an Olympic organization and play for the national team. This is a great achievement for any high school athlete."
Like his experience in England, the Olympic Development Program is broadening the young man's horizons as he learns under the direction of a rather worldly group of coaches. In addition to the various Americans on the ODP coaching staff, one is South American, another is African, and another is from Canada.
Jones is expected to play center-mid, right-back, or right-wing with the ODP team. The Worth athlete will now travel to Atlanta every other Sunday to train at an Olympic facility. In December, the team will play Tennessee as region games begin. If Georgia wins the regional competitions, Hunter will move on with his teammates to compete for a national title. The winners will ultimately comprise the national team.
"When I was little, I always dreamed to travelling and one day playing collegiate soccer. Now, I'm 15 years old and I've made the ODP team, which has been my goal for three years. I've been able to go to England and play with some of the top notch players my age… All of this has just been tremendous in my lifetime."
Jones hopes this experience will open more doors and eventually offer that opportunity to play at the college level so he can continue doing what he loves to do.