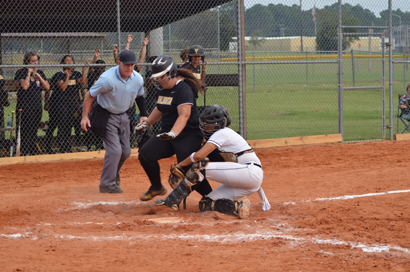 Control. Control is a word used to describe our temper, attitude or general demeanor. To Courtney Hamilton its her approach to pitching. Hamilton was in complete control yesterday as the Lady Rams used a seven run, second inning to defeat the Valdosta Lady Wildcats. Hamilton struck out 10,  scattering four hits and giving up only one run. Using a superb mix of pitches, Hamilton, though behind in the count at times, aggressively attacked the Valdosta batters.
Offensively, Kailtlyn Walters paced the Lady Rams with two hits. Laylon Ivey and Logan Burger made the most of their one hit by driving in two runs each.
September 12 is the next big home game for the gals… it's Pink Out Day!! Remember, real Ram fans wear pink.