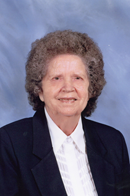 Lillie Vie Lewis Cosper, 89, of Moultrie, died Tuesday, June 18, 2013 at Park Regency of Moultrie.
Funeral services were 11 a.m. Friday, June 21, 2013 at Cobb Funeral Chapel with Dr. Hugh Ward officiating. Interment followed in Cobb Suncrest Memorial Gardens.
Born February 6, 1924 in Sylvester, she was the daughter of the late William Henry Lewis and Katy Eady Lewis.  She was a homemaker and was a member of Kingwood Baptist Church.
She was preceded in death by her husband, Marcus Claburn Cosper; two brothers, William Edward Lewis and William Henry Lewis and one sister, Pearline Lewis McClelland.
Survivors include two sons, Marcus Terry Cosper and wife Barbara of Albany and Tracy Kurt Cosper and wife Susan of Moultrie; three grandchildren, Brian Cosper and wife Lisa and Julie Cosper Hall, all of Albany and Britney Cosper of Moultrie; five great-grandchildren, Knox Hall, Eady Hall, Fletcher Hall, Ava Cosper and Polly Cosper; two brothers, Henry Albert Lewis and wife Christine and John Henry Lewis and wife Ann, all of Moultrie; a sister-in-law, Jeanette Lewis of Poulan; and her special cat, Kat.
The family received friends one hour prior to the service on Friday at Cobb Funeral Chapel.
Cobb Funeral Chapel was  entrusted with arrangements.