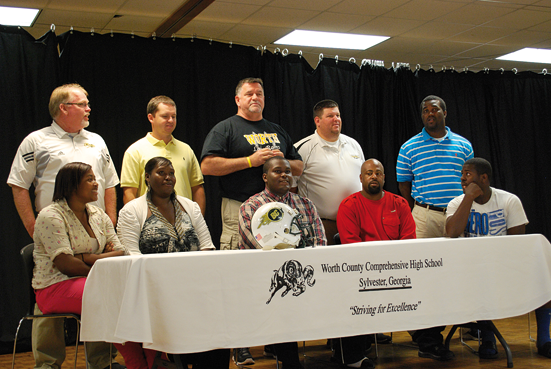 Marquazion Mency fulfilled one of his lifelong goals Thursday morning when he signed a scholarship to play football for Bellhaven University. After welcoming everyone to the ceremony, Coach Scotty Ward took a moment to recognize this meaningful time in Marquazion's life by calling him "an awesome kid who has worked hard to gain this chance to go the next level." Ward went on to say that "he got the opportunity not only by his talents on the football field but by his grades as well and we are all so proud to watch him move on."
Ward considers Mency to be "a great contributor and a high character kid," who he couldn't be more happy or excited for at this time in his life. He also credited Mency with saying that "he had done all that was asked of him to do in order to further the football program" and feels that Mency "went above and beyond" when it came to giving his teammates his all.
Bellhaven was Mency's first choice when filling out his college applications and he was ecstatic to learn he had been chosen to join the school not only as a student but as a football player as well.
Marquazion became a part of Worth County's football team his freshman year and continued to be a driving force on the team throughout his high school career. Although the offensive lineman proved to be irreplaceable on the football field, his coaches and family members are also quick to point out his his hard work and dedication in the classroom as well. Marquazion's mother, Latonya, is deeply proud of her son's accomplishments and "prays that he continues to do well" as he moves on to college. She "thanks God" that all of his hard work has finally paid off in such a big way.
Marquazion himself is "excited" at all of his recent accomplishments but he admits to feeling "a little bit nervous about moving" when it comes to relocating to Mississippi for the fall semester. Coach Giddens, who also claims Bellhaven University as his alma mater referred to the high school senior as an "excellent player and an even better kid that excelled on the field as well in his classes." Giddens "enjoyed having the opportunity to work with such an outstanding kid," who he considered to be "a leader on the field." Although his coaches, fellow students and family members will be sad to see Marquazion leave, they couldn't be more happy that he has been given the opportunity to chase his dreams. Congratulations Marquazion!