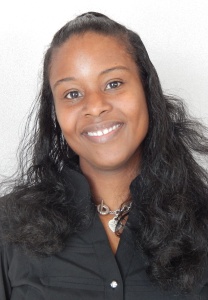 Kiesha Legree of Sylvester has been chosen as the final winner out of a field of four delegates to represent Moultrie Technical College (MTC) at the EAGLE Leadership Institute in Spring 2015 in Atlanta. The Leadership Institute recognizes and honors those students who have demonstrated superior achievement in adult education classes and programs including GED® test preparation.
The Technical College System of Georgia, through its Office of Adult Education, sponsors the annual Exceptional Adult Georgian in Literacy Education (EAGLE) Leadership Institute.
Legree was born in 1978 in Brooklyn, New York, and has lived and worked there until her recent move to South Georgia. Her work experience includes ten years with the New York City Housing Authority. She is the mother of six children, three biological and three adopted, ranging in age from six to 20.
Of her decision to enroll in Moultrie Tech's GED test preparation and literacy program, she says, "I now know that it is important to have an education. I didn't finish school, so I encourage my children to stay in school. I decided to enroll in the Adult Education program so I can be a role model to them."
Legree is currently preparing to take the official GED test through the MTC's program offered at the Sylvester-Worth County Adult Education Center. However, she faced many obstacles, such as difficulty reading in elementary and middle school, and is now learning how to overcome those.
"As a child I was put in special education [classes], and I didn't think that I could learn. I was ashamed and unsure of myself. Now I know I can learn, and I will never say I can't do anything," says Legree.
She is already tasting success, and of her personal experience in Moultrie Tech's Adult Education and GED test preparation classes, she says, "A few weeks ago we were given the chance to take the practice [GED] test for free. I took the test and passed the Language Test. This has let me know that, if I prepare myself, I will pass the GED test."
Legree also shared some reassurance for others who are looking to improve their own lives and the lives of their families through MTC's Adult Education program. "The classes are free, and the teachers encourage you to learn at your own pace. No one rushes you."
As she works toward having her GED diploma in hand, she is already planning her next steps in continuing her education in Moultrie Tech's credit program. Legree's sights are set on obtaining an associate degree in Radiologic Technology, which could lead her to a career in healthcare as an X-ray technician.
Her primary instructor, Mattie Grant, at Moultrie Tech's Sylvester-Worth County Adult Education Center said of Legree, "She is a shining example of the results of hard work and perseverance. The day begins with getting her children off to school and usually walking to school where she spends five hours, Monday through Thursday, preparing for the GED test."
As she balances her studies with her family responsibilities, Legree spends time planning family activities to include going roller skating, to the movies, and to the shopping mall. She also serves at her church as the youth choir director and accompanies the choir to sing at other churches. She says her favorite thing to read is the Holy Bible, as well as other self-improvement books.
Representing MTC's Worth County Adult Education program, Legree competed for this year's Moultrie Tech EAGLE position with students from the College's service delivery area of Colquitt, Tift, Turner and Worth counties. Students chosen from programs in those counties were Ruby Wilson of Colquitt, Timothy Webb of Tift, and Samantha Newberry of Turner. The Adult Education students were evaluated through a speech and interview process.
EAGLE is the first statewide program in the nation that recognizes and rewards excellence among students enrolled in the adult education and literacy programs. This student recognition program is designed to create greater awareness of educational opportunities that are available in local communities across the state and to foster greater involvement in lifelong learning pursuits.
For more information on Moultrie Technical College's Adult Education program in Colquitt, Tift, Turner or Worth counties and on obtaining a GED diploma, contact Director Melissa Burtle at (229) 217-4181 or log onto the college's website at www.moultrietech.edu/adulted.