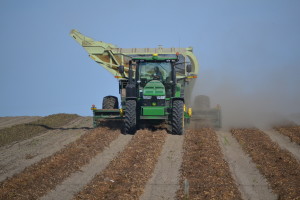 With trailers full of peanuts beginning to make their way to buying points all over Worth County, Farmers are beginning to see problems reminiscent of 2011's devastating drought. Though the peanut growing season was book ended by rains during planting and again now that it's time to harvest, a dry summer has some Worth farmers wondering if it's even worth the fuel to dig and pick this year's crop.
According to Worth Extension Agent Scott Carlson, irrigated peanuts are falling into the average range and look good for the most part this year, but dry land, or non-irrigated, peanuts have suffered drought stress. Approximately 40 percent of Worth's peanuts are dry land crops that depend on God's good graces to keep them watered and healthy. According to Carlson,
"A lot of these problems come along with drought stress. We had spider mites in various parts of the county, in the dry land fields especially. Some of the dry land has really suffered. There are parts of the county that got some decent rain and some of the dry land fields look ok. But, the majority of them had a lot of drought stress this year."
Bridgeboro farmer Zach Shanklin says the majority of his dry land crop is growing in a field in Mitchell County where sufficient rain fall kept the ground wet, and he thinks the crop is going to turn out alright. However, Tim and Tommy Sumner in eastern Worth County say their dry land acres have nuts that turned loose in the shell, and a lot of empty shells that didn't produce a nut at all.
Carlson says the southern portion of the county got some good rains during the critical part of the growing season. Areas around Warwick and Doles got some rain during the early part of the season, but endured drought conditions as the crop matured.
To compound the problem, the rains have returned now that it's time to pick peanuts. These showers in early fall, like Friday's storm last week, is presenting challenges for Worth's farmers because many farmers had already begun digging up the peanuts and were forced to leave them sitting in the fields for an extended period of time. On the other hand, the fields that were not already dug will have to dry before farmers can even get into the fields. The extension agent explains,
"It varies on a field by field basis, but it is probably better to go ahead and dig them ahead of the rain. That way, the vines are still green when the rain comes, so they haven't really dried out. Under normal harvest weather, the farmer can dig and two or three days later, the vines are dry enough to pick. If they dig right ahead of a rain, the vines are still green and it's not going to hurt them too much."
However, he also says that if the peanuts have been picked and left for two or three days before the rain comes, the dry vines get wet and it becomes tougher to pick them. On the other hand, too much rain could keep the fields wet when the peanuts are mature. If the farmer cannot get into the field in time, the peanuts could begin sprouting and the crop would be ruined.
As of Friday, Doles Peanut Company in Doles and Brown Milling Company in Bridgeboro both said that they haven't seen any dry land peanuts come across their scales yet. However, both buying points expect to see the non-irrigated crop to begin trickling in this week. And, each buying point agreed that they expect to see an array of problems as the loads come in.