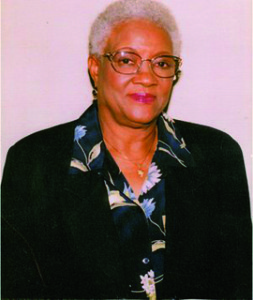 The Sylvester community was saddened last week to hear of the passing of Mrs. Irene Hall. The long time Sylvester nurse touched many lives through her practice, but she also helped many people in our community through her years of devoted civil service.
Born in Sumner, Hall graduated from William Bryant High School in Moultrie before beginning her career at Worth County Hospital in 1951. Three years later, she earned her Licensed Practical Nurse (LPN) certificate and continued helping Worth County's sick and injured in the emergency room at the hospital, and she served as ER supervisor for many years until she retired in 1997.
But, beyond the countless lives she touched and healed during her long career as a nurse, Mrs. Hall also devoted time to bettering the community in a number of ways. For example, she served for many years as a board member and as chairman of the Board of the Sylvester Housing Authority. She was also a longtime member of the Florence Nightingale Nursing Organization. She served on many other boards including Phoebe-Worth, the Mental Health Advisory Council of Worth County, and the American Cancer Society. Because of her life long and selfless commitment to the community, Irene Hall was presented a lifetime achievement award by the Sylvester-Worth County Chamber of Commerce at the annual Chamber Dinner in 2010.
According to her son Greg Shipp, Mrs. Hall's devotion to her community began as a child as her parents taught her the value of giving back. Shipp explains,
"Both my grandmother and granddaddy were real giving people, and they instilled those values in her. They believed in giving back and serving, and I think that's where the roots started."
As she grew, Hall's son says she had a passion for nursing because she simply cared about the well being of others. Throughout her life, up until the very end, she was always concerned with how others around her were doing, and she wanted to do anything she could for them.
"She loved her job," he says. "She stayed with the hospital and did nursing because it was just an opportunity for her to serve people. She did that with great passion and great enthusiasm. That job was her life."
When it came time, and people called on her help to serve on various boards, Shipp says she also loved to give back in this regard. She lived her life from the perspective of giving.
Mrs. Hall passed peacefully on September 24. She will be fondly remembered and sorely missed by anyone who ever encountered her.