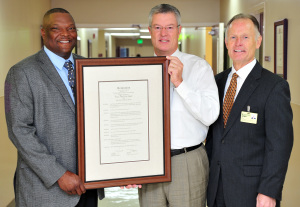 SYLVESTER, Ga. – Phoebe Worth Medical Center Board recently honored Ms. Irene Hall, who devoted 52 years of her medical career as a nurse serving patients in Worth County in many different capacities. After her retirement in 2001, Ms. Hall then spent the next 12 years on the Phoebe Worth Medical Center Board and was elevated to the prestigious status of emeritus board member.
She also served on numerous committees and boards including Worth County Hospital, Worth County Health Department, Mental Health, Department of Family Children Services, Board of Registrars and as Chair of the Sylvester Housing Authority. She was the recipient of the Sylvester Worth County Chamber of Commerce 2011 Lifetime Achievement Award.
Her death on September 24 left a void, both in the Phoebe Worth Medical Center board room and in the community. But her legacy will live on. Christopher Shipp, Irene Hall's son, was nominated to fill the spot that she left open. On October 30, Shipp, along with another new board member, Wayne Senkbeil, were sworn into their new positions on the board.
At that time, Shipp was also presented with a framed copy of the resolution commemorating his mother's dedication to her community and the patients she cared for during her many years of service.