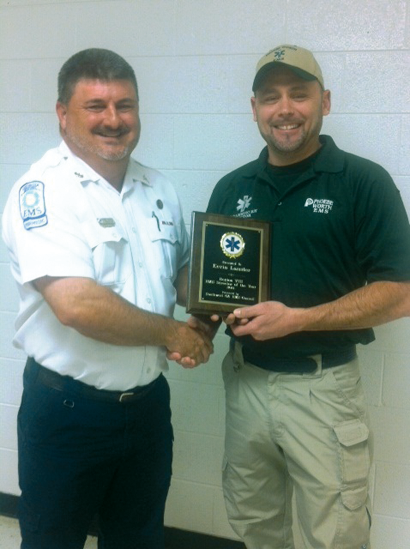 SYLVESTER, Ga. –Phoebe Worth Medical Center's Kevin Lassiter is Emergency Medical Services (EMS) Director of the Year for Southwest Georgia, receiving the honor at an annual EMS banquet, Thursday, March 6, in Moultrie.
Lassiter was chosen from EMS directors in Region VIII, which includes 27 counties and at least 10 private emergency services.
"This is a tremendous honor and I was very surprised when they called my name," said Lassiter, who has worked in emergency management for 18 years, including three years as an emergency room nurse. "It is a great feeling knowing that I was chosen from among my peers because they all do an outstanding job and are just as deserving as I am for this award."
"Lassiter is a great choice for this honor," says Kim Gilman, chief executive officer at Phoebe Worth Medical Center. "Kevin has done so much for our organization and our community. He and his crew are prepared and in constant readiness to handle emergency situations," said Gilman.
Gilman spoke of the extracurricular involvement that Lassiter encourages. "Kevin knows the importance of having our EMS being active in our community, whether it is showing the ambulance at the schools for Career Day or participating in the "Drive Thru Flu Shot" event, talking with pre-K students or participating in the parades and festivals," said Gilman. "He encourages crew members to be involved and active in the emergency medical profession, making our Phoebe Worth EMS stronger and giving the team more knowledge to help save lives in Sylvester and throughout Worth County."
Lassiter also organizes emergency training classes, such as cardiopulmonary resuscitation (CPR), advanced cardiac life support (ACLS) and pediatric advanced life support (PALS) for all Phoebe Worth employees and is an active member of the Region EMS Directors Association.
Lassiter recently accepted the additional position of plant operations manager for Phoebe Worth Medical Center and serves on the hospital's Environment of Care, Patient Safety and Quality Improvement committees.
A native of Winder in north Georgia, Kevin has lived in Sylvester for 12 years. He has been with emergency medicine services for 18 years and holds an RN degree from Darton State College. Prior to becoming director, Lassiter served as Phoebe Worth Medical Center's EMS shift captain. During that time he was named Paramedic of the Year three times.
While Lassiter is very proud to be chosen for this honor, he says that he cannot take all the credit.
"I would have never won this award if not for the crew members who go out every single day and serve the people in our region," said Lassiter.  "They are all professionals and it is an honor to be their director.  This award reflects on them as much as it reflects on me, and I accept it in their honor."
Phoebe Worth's EMS consists of 26 paramedics, 10 emergency medicine technicians and a cardiac technician. They have three ambulances serving the region 24-hours a day.
Phoebe Worth Medical Center is designated as one of the state's critical access hospitals. It provides state-of-the-art health care services for Sylvester and Worth County and is part of the Phoebe Putney Health System network of hospitals.