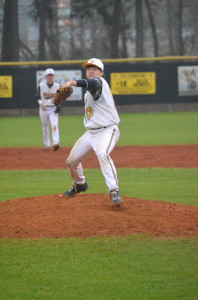 The Worth County Rams baseball team began last week with another tough region loss in Cook County against the Hornets. Though Jake Jones offered an impressive effort from the mound for the Rams, Cook took the lead in the first inning with a solo homer by their pitcher. Meanwhile, the Rams only scored a single run in the third inning when Denzel Gowdy doubled and drove in an RBI. Ultimately, the Hornets would put up two more runs and win, 3-1.
Rams Head Coach Will Smith described the pair of close region loses against Cairo and Cook as heartbreaking. According to the Worth coach,
"These loses have been so close. Ultimately, we're going to be judged by our wins and losses, but I'm proud of the way we're playing. We've got a lot of wins that I'm not as proud of as the way we've played during these loses."
Smith went on to say that his team has played 14 innings of great defense and offered up excellent pitching performances during these two losses. However, two pitches potentially made the difference between winning and losing in these games against the region toughest opponents.
On Wednesday, the Rams travelled to Albany to face the Indians. The Worth team racked up 10 runs in the first two innings to create a devastating lead. But, the rains came before the second inning ended and the game was cancelled. Though it would have been nearly impossible for the game to end in the Indians' favor, it will now be rescheduled and played again. At least the Rams won't have to return to Albany for the game. Instead, the teams will play a double header on April 6 when Albany comes to Pope Park.
Then on Friday, the Worth baseball team returned home to host the Dougherty Trojans. The victory took a little longer to secure than the two inning routing of Albany on Wednesday, but the result was similar. The Rams averaged three runs per inning to score 12 in the first four innings and end the game in the middle of the fifth. Tripp Goff, Reece Bozeman, and Jonathan Cirullo all contributed to the victory with RBIs. Meanwhile, Cody Reddell offered a stellar performance from the mound in the shutout victory.
While the big win over Dougherty and phenomenal effort against Albany should help restore the team's confidence and momentum following a pair of tough losses, the Rams had little time to celebrate as they play three more tough region teams this week. On Monday, the boys travelled to Crisp to take on the Cougars. Wednesday, the Rams return home to host the Bainbridge Bearcats. Then on Friday, the team will travel back to Albany to face the Westover Patriots.
Next week, the Worth team will host Thomas County Central on Monday before visiting Monroe on Wednesday and Americus-Sumter on Friday.