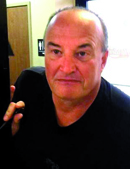 Worth County Sheriff Jeff Hobby issued a Be On the Look Out (BOLO) advisory last Thursday requesting any local residents who happen to spot 55-year-old Thomas R. Anthony of Dubuque, Iowa to call 911 immediately and inform them of his whereabouts.
According to information provided by the sheriff's office from August of 2014, Anthony allegedly tried to abduct a 6-year-old boy from a Hardee's restaurant in Illinois. According to the report, a woman was eating with her three children when the man pulled up a chair at the table and began talking to them. He left, but when the woman took one of the three children to the rest room, Anthony reappeared and allegedly coerced the boy to go outside with him.
Three men who were also eating witnessed what was happening and stopped the suspect at the door until the mother returned from the restroom. Anthony then left in a red Ford Ranger with a camper shell and Iowa plates. He was later arrested in a Walmart when a 12-year-old boy reported to his mother that a man made him uncomfortable while talking to him. Anthony apparently said nothing overtly inappropriate to the boy, but just made him nervous. The mother recognized him as the man wanted in the attempted abduction and called police.
Though Anthony is not wanted for a crime in South Georgia, he has been spotted recently in Southwest Georgia. The sheriff's statement mentions that area sheriffs have been made aware of his presence and are keeping an eye on him. However, the release reminds everyone to stay alert.