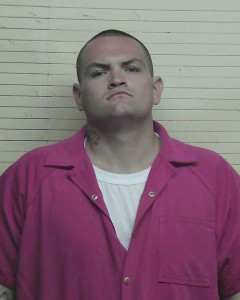 On January 22, Sheriff's Deputy Rusty Parten responded to a pair of burglaries in the South County Line Road area. At Park Place, a neighbor witnessed a pair of men leaving the home with a television, identified the vehicle, and took down the license plate number.
Deputy Parten quickly identified the two suspects as Travis Eugene Wade and Joseph Gregory Stetter, Jr. While Stetter was arrested the following weekend, Wade remains at large.
According to Deputy Andy Hamilton, who is investigating the crimes, the men targeted the house on Park Place because they knew the resident. However, upon being spotted, they fled and came upon another secluded home on South County Line Road. Stetter and Wade attempted to break into the second home, but a female resident was home.
Startled once again, the pair fled and made a couple of twists and turns before arriving at a third residence on Porter's Corner Road. At the third home, the pair stole several items including guns. However, it is believed that the men were initially looking for jewelry when the spree began.
In addition to the three crimes in Worth County, the two men are also suspected of committing similar burglaries in Dougherty and Lee Counties. Anyone with information on the whereabouts of Travis Wade is encouraged to contact the Worth County Sheriff's Office at 229-776-8211.