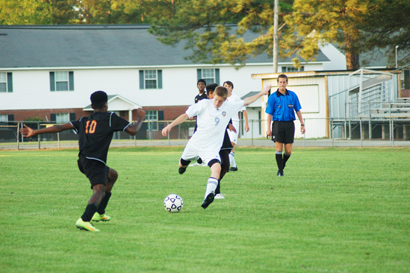 With the regular season behind them and the region tournament set to begin for the Worth County Rams Soccer program, the team hosted Albany at Milt Miller Field for the first game on Friday, April 12. Worth Head Soccer Coach Colby Simpson predicted the contest would be called early with the Rams up by an insurmountable lead. And he was correct, as the game was called with nearly 12 minutes remaining and the Worth team on top, 11-1.
In the first half alone, Dale Pate scored four goals and offered an assist, while Dylan Mayer scored another and put up three assists of his own. Then, senior Hakeem Slade scored another goal to put the Rams on top, 6-1, at half time.
In the second half the onslaught continued with Dylan Mayer quickly kicking in another goal. Then, #18 headed in another goal to push the Rams ahead, 8-1, just nine minutes into the half. Following that, #15 scored on a free kick after an Albany hand ball before Hakeem Slade scored again on a corner kick opportunity. Finally, with 11:38 left on the clock, Hunter Jenkins fired in the final goal to give Worth County a 10 point advantage and end the game.
Advancing to the second round and semi-finals, the Rams travelled to Americus last Tuesday to take on the Panthers. While Americus-Sumter posed a greater threat to the Worth team than their previous competition, senior Dylan Mayer scored the only goal of the game and the Rams won, 1-0, to earn a spot in the 2013 Region 1-AAAA championship.
Additionally, the victory over Americus earned Worth County the opportunity to host the first round of the state playoffs. This is the first time in the school's history the soccer team has hosted a playoff match.
But before the playoffs begin, the Rams played the most important game of the season last Thursday when they travelled down to Cairo to take on the Syrupmakers in the region championship game. Unfortunately, the record setting season would come to an end in Cairo as the Rams fell to the Syrupmakers, 0-2.
Now the Worth boys' soccer team will host the first round of the state playoffs on May 3, though their opponent has not yet been established. Meanwhile, the Lady Rams also fell to Cairo, 1-9, on Thursday to finish the season fourth in Region 1-AAAA. The girls will travel to region 4 for the first round of the playoffs on May 1, but the opponent and location for this game is yet undetermined as well.